Location – Meadow Lake
Hours – 44 Hrs
It's Syndicate time and with a kind friend offering to collect the kids from school; this saves me a night time set up.  The water levels are pretty much as high as I've ever seen them – 3ft+, so a high proportion of the swims are either underwater or extremely hard to fish.  When I arrived, there wasn't a soul here.  After a quick drive around the lake which ruled out a fair few swims, I was standing in this swim and a nice fish rolled.  My choice was made.  I hadn't seen anything on my walkabout around the few fishable spots.
I felt that as I hadn't been here for some time, I had to get the Deeper out and see if I could locate a couple of good spots away from the normal ones.  This swim can be very tricky.  I located a perfect gravel spot I had previously not found, which is brilliant as the Carp have hopefully cleaned off the weed/silt and created a feed spot.  All I hoped for was that I wasn't too late and the Carp had moved on.  This was in a perfect position as an interception route out of the bay area to my right, it leads into the sanctuary area.  The other spot was at some range and was along one of their patrol routes.  This spot was silty but you could pick up the odd signs of gravel.  I always run the marker rod over the area once I've located a spot with the Deeper, this also helps with baiting up and lining up your horizon markers; unless its a flat calm day, unlike today, I had to sit in the bivvy for 15 minutes before continuing to set up, as a very heavy rainstorm pushed over the lake.
I baited up both areas, the range rod was going to be Classic Corn boilies with a matching wafter.  The other was Catalyst boilies, pellets soaked in Catalyst syrup with a bag of particle blend with a 12mm PPS pop up.  Once all the rain had finished, the temperature started to drop and the pressure was steadily rising, there was sunshine forecast for tomorrow with the prospect of a northerly wind.  The part of the lake I was in would be sheltered and hopefully warmer, fingers crossed.
It was just after 3 am when my first take happened, I was happily pumping across the lake what felt like a nice Carp when the hook pulled out, I thought I had got around that problem, perhaps not.  That was a real shame as that was on range rod baited with the Classic Corn, it would've been nice to catch on my first trip here using it.  Well, at least it produced a pickup, which is certainly positive as there is a pretty hard frost on the ground.  Onwards and upwards.  With the rod back out there and a fresh bait on, the hook was still needle-sharp, just was one of those things I suppose.
My second take happened just after 5 am and after a very careful fight, the fish was safely in the Nsr50, the hook hold was absolutely perfect and going nowhere, same rig just on the right rod this time.
22lb 9oz Common
I was over the moon after the lost fish early on, with that rod back out, it was time to get back in my pit.  There was a very heavy frost and I had to break the ice on the water bucket that I use for the fish.
I awoke at just after 9 am to find that heavy fog was over the lake, not surprisingly after that temperature drop overnight -3 apparently.  Once the fog had cleared and I could see my horizon markers, I rebaited both rods on their spots and a couple of spombs over each for the day.  It was going to be a sunny day but with a fresh northerly wind.
As there had been no action by 13.45, it was time to top up the swim fully for the night.  This was in the hope that I will receive more action and after seeing a Carp crash out some way past my baited area, I was pretty confident.  A moving carp will be using up energy and therefore must feed to replace what it's been burning off.  Fingers crossed again for tonight, it's going to be another cold one and the pressure is through the roof, I can only hope.
Just after 3 am, which was more or less the same time as the take yesterday morning, I get a couple of bleeps and no more – don't you just hate that?  You are never 100% sure until it either rips off an hour later that it was a liner or you reel in the next morning and there's a problem with the rig.  Well, I took the decision to leave it, as I was 100% sure I could get the bait back on the spot and there had been no real positive signs it was a take – we shall have to see.  I stayed up for a bit and heard a Carp or 3 topping out in the open waters.  This boosted my confidence, I was more positive than it was a liner and a take would happen sometime soon.  That wasn't the case and morning soon arrived along with pack uptime.  I can't complain about 1 Carp on the bank in these first proper Winter conditions and the 'oh so' sudden changes in the pressure, wind, and temperature since Friday am.
p.s the rig was perfect on rod.
Until next time
Richard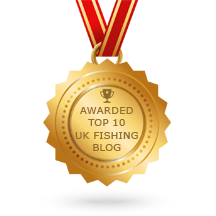 Please subscribe to my Video Diary
Consultant For
Sponsored By