As it was mental health week, a few weeks ago, I thought I would share how I believe fishing has helped me get through all the years of suffering and into many more.
My depression started, way back when I had no idea what was going on.  It is only in the past twenty years when the illness has been brought out into the open and less of a stigma attached to it.
Unfortunately, there is still a vast gap between people who suffer and people who don't.  There is just no real way to explain that one second I can be perfectly ok and the next unbelievably sad and wishing I could burst out crying.  Which in a nutshell, is how I have lived my life for decades, there is no trigger that I can spot.
I was prescribed medication a good number of years ago and took them for about a year when things were really bad.  But after reading lots about the long time side effect, I discided this was not the way forward for me and I just have to deal with this down moments in time my own way.
What I (and my wife) noticed it never happened when I was fishing.  In some ways, I thought was odd, as I generally fish alone and have done for many years.  I think we fish better like this; don't get me wrong, you can see from my blogs over the years I have started to fish more, with other people.  I often wondered whether it was due to having fewer things going on.  Which can't really be the case, when you consider how much time I have spent by myself before I took redundancy.  Work was so full-on, over 12 hrs a day and my mind was occupied with work 24/7, it still would kick in but a lot less.  However, over the past 4 winters, since finishing my shipping days and doing gardening now, the Winter months have become less active for both work and fishing.  There is a clear difference between the weeks where I can fish and the weeks I can't.  I have come to realize that fishing is definitely my happy place or it could be just getting out into the countryside and the freedom of it all.  For me it's the best therapy there is and I'm not sure where I would be without fishing.  There has been the odd time where I just could not get out of bed, but I found that I just had to go and tell myself, just go for a walk around the lake.  Inevitably, I would stay and fish, probably not to the best of my ability, however, I was out there.  It also goes without saying that my wife & family have been so understanding and letting me out in the bank all these years.
I have also found that it's a great satisfaction for seeing my friends catch carp – it must be the emotion of the moment which rubs off on me.  I get a great sense of well being.
I do hope this helps people and maybe, it's worth taking up fishing of some sort.  It may just turn out to be the best therapy you can ever get.
Richard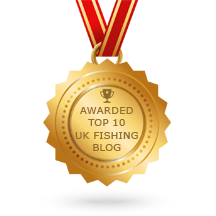 Please subscribe to my Video Diary
Consultant For

Sponsored By