Location – School Lake
Hours Fished – 5hrs
With another opportunity to get on the lake again today.  It was going to be another cold start to the day, but sunshine was forecast.
I came armed with my Deeper Chirp and slowly walked around the lake.  I was more or less sure where I would find them.  It would be nice to start mapping the lake, as the lilly pads had just about gone.  I'd been watching the Grebe over the past few trips and I'm sure that he had found Silverfish and they would certainly be in a warm part of the lake.  This meant that the carp would not be far away.  Once I came to that area, sure enough, the Deeper picked up the shoal of fish.
Not 100% sure that any are Carp, as they could be balled up tight together.  However, I'm always confident that if its a good spot for them, the Carp will never be far away.  I flicked out two small bags with pop-ups on, sat back and we shall see.  I like to have the tips up in the water, as you can watch the line for any signs of Carp and it did twice a couple of times, which kept me in this part of the lake.
I decided around noon time to bring the right-hand rod close in as I had seen a bit of movement and felt it needed to be closer rather than in open water.  Just after that, the left-hand rod was away without any warning and a small battle ensued as the fish was determined to get in the overhanging brambles.  However, I had the opposite opinion and finally managed to get a low double into the net.
11lb 14oz
Very happy with that as the Deeper had recorded a surface temperature of 5 degrees, not too conducive for feeding carp.  After finding those fish on the Deeper I was ever hopeful and it paid off.
I very nearly moved to swim up to the island, but just felt comfortable here, I had another liner, but that did not materialize into anything, unfortunately.
Until next time
Richard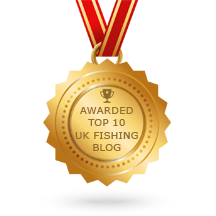 Please subscribe to my Video Diary
Consultant For
Sponsored By