Location – Meadow Lake
Hours Fished – 48hrs
I am down on the Syndicate lake this weekend for two nights.  I was unable to get in the same swim as last weekend – which would have been nice, after bagging a couple of Carp.  I looked at another option nearby, but with a strong easterly wind forecast that just didn't float my boat.  It would be pushing hard on to that bank.
I arrived after dark, so there was no real rush to get set up.  After two laps around the lake and a fair bit of standing listening to absolute silence, I finally settled on a swim that I felt would produce a fish or two.
Now to get some bait and rods out.  As I've fished this swim many times, it does help things a bit and knew exactly where I was heading.  I clipped on a 3oz distance lead from Touchdown leads and counted out the number of wraps on my marker poles.  I flicked the rod out and sure enough, there was a nice tap tap of gravel from the right-hand rod.  The other was on a lovely smooth patch of silt, just of the gravel.  Both were very close to each other.  I find this helps when spombing at night, you're only really baiting up one area.  With a PPS & Pineapple pop up on, the rods where done.  You have to be confident with your casting and baiting up when setting up in the dark.  If it's always perfect in the daylight, why would it not be at night?  As we have light pollution, this does help with those horizon markers!
The night drifted by with a fresh East wind picking up through the night and died down by first light.  The sun is due to make an appearance then its going to turn into a grey Winter's day, just in time for the 1st December tomorrow.  May catch a Winter carp tonight?!  The wind is still due to blowing from the E then swing NE later on with the pressure up to 1018 from 985 two days ago, I'm sure this will affect the Carp.  These big girls have to feed and its more likely to be today/tonight as the pressure will have settled.
Ian popped down for a few hours Pike fishing today and we spent it chatting away.  His time was soon up and he headed home.  Unfortunately, the Pike rods were also silent.  I rebaited the rods and settled down for an evening of Netflix.  The wind was now from the N/E and it was pretty fresh out there.
With a liner in the night around 10 pm, I was feeling pretty confident.  However, it's now afternoon on Sunday and with not a carpy sight – it's looking like a blank.  The sun has been up and along the treeline since 10 ish and I was hoping for a take.  When they ventured out of the sanctuary it's very sheltered from the sunshine and that spot is also on the back of the wind.
I was packed up by just after noon time and drove around that lake.  I stopped in one of the days swims that looked incredibly Carpy, so I parked up and set up one rod for a couple of hours, but there was no joy in the end.
Until next time
Richard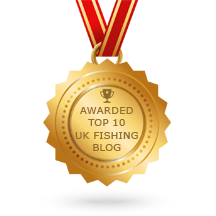 Please subscribe to my Video Diary
Consultant For
Sponsored By