I have been lucky this weekend and have been given the opportunity by the family to get out on the bank again. So, I'm thanking them for that.
Ian and I fancied a change of scenery this weekend and headed over to the Airfield Lake. We had not been here for some time and this swim has a great view of 3/4 of the big lake.  This would give us a chance to see where the carp are; generally everywhere this time of year.  It's tracking down the bigger fish which is a real issue and they generally don't show themselves until after dark.
As I know this swim very well, it wasn't an issue I arrived after Ian – by some 10 hrs.  I was only planning on putting out a small bag on each rod with a 15 mm Catalyst wafter on and then putting 3 small spombs over each area to start with.  I would then move on from there over the course of the next few nights.
After a few hours of playing around with the Deeper, I finally settled for a nice spot in 6ft of water and the other rod was just off the tree-lined margins of the island to my left.  I often see carp along there.  It was only 3.5ft deep, so I wasn't going to put too much bait out, just in case the swan came along.  I was sticking to the Catalyst wafter.
Finally, the afternoon heat cooled down.  It wasn't even forecasted or very pleasant, we were both glad when the evening arrived.
Morning arrived with a screaming run for Ian and it was soon safely in the net.  We quickly realized being about 8 lb, it was not the biggest ever caught, but it was a carp.  This should always boost your confidence as it shows there are fish in the area and they've started feeding.
Still, no fish for me but the day is looking a lot better, there is a gentle fresh breeze and plenty of cloud cover.  Hopefully, I will be in with a chance of a carp in daylight hours.
The carp are certainly very active and crashing about everywhere.  As the weather is holding, with no sunshine and still a good breeze across the lake towards, all I've altered is moving the left-hand rod to the point of the island.  This is where there were a few fish topping first thing this morning.  I've put a small bit of plastic corn on each wafter to make them a bit more visible, in the hope an inquisitive carp takes a look.
Well, the third night passed us by again without a bleep.  This lake is turning into a real headbanger – this was once one of the most productive areas.  I can't really see why the fish would keep away.  There is probably 4 acres of water out there, with a mass of features.  This may be the issue.  But this trip, I made a point of fishing similar features but in different areas where we still seeing fish crashing about in front of us.
I'm not sure when I will be back as I have family plans for the next month.  This will only give a couple of quick overnighters and I was thinking its time to try the Estate Lake again, we shall see where we end up.
Until next time
Richard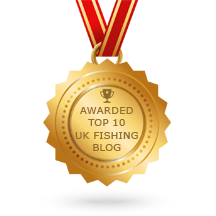 Please subscribe to my Video Diary
Consultant For

Sponsored By