I was able to get down the lake again for a couple of nights, thanks to Mrs. H for understanding my obsession.
Ian arrived on Friday afternoon and it was a Bank Holiday weekend: time was limited, the weather was finally getting warmer plus pre-spawning captures which meant the lake was pretty packed with 15 to 18 anglers on 64 acres. You may laugh, but that's packed for here.
Ian had managed a low 28lber on his first night.
This was a fantastic stat for him on here, and it certainly made his trip.
I could only hope to slot in somewhere. There was absolutely no point in having an inkling of where I might fancy going but I had something in my mind that would be the perfect area. The weather was looking favorable, let's hope the weatherman has got it right for once!
I arrived around 5pm and headed in the direction of where I hoped would be free. Much to my amazement, that area was free, and there was no one about me other than Ian down the far end.
This area is where the carp show up before they spawn. Ian had spoken to a fellow member that had spotted the carp in there the other day. This was good news as I hadn't seen them when I fished Wednesday night, and sure enough, I spotted a couple show when I was driving by to get to the car park.
The area is pretty shallow – between 3ft and 4ft if your lucky. I needed to be mindful of the bird life coming to get me.
I would be using more of the crumb mixture that I had made up in the week for my last trip out. I only wanted attraction in the swim in order to keep away the Tuffys, mallards, and swans from wrecking my spots. I'd been able to get in here for a few years as it had become very popular with the day anglers and I just was unable to get down here before them.
I got a bag of 20mm, and my throwing stick to put baits in the really shallow areas, in order to fend off any unwanted wildlife that comes along. It actually turned out very handy for the seagulls, "a bit of a waste of bait", I hear you say but needs must and they were full up and gone in 15 minutes.
Checking everything was all ok before I tucked myself away under the brolly and in my bag.
It was a very misty and damp night, without any action on the carp front. The carp appeared to be still in this area, but very cagey about picking baits up. It was at this point I decided to move my left-hand rod and discovered that I'd had a take in the night. It was stuck fast and I had no option but to pull for a break. I'm not very happy at all about that and something I really don't like to happen, I can only put it down to a lack of my receiver as I've had to send it off to Delkim as it's using up the battery in 24 hours.
The sun is finally burning off the mist, and there are carp all over the place, I've re-rigged my rod, and with any luck, something will happen soon. My mood is brightened by carp showing in this area.
I've now moved both rods into different positions for the next couple of hours. We'll see if this produces a bite. The weather conditions are perfect; overcast and a light southerly breeze, and there is a gentle glow from the sun, which is trying to break through the clouds.
I repositioned the rods one more time and changed the hook baits over to 11 x 15mm classic corn wafters. I dropped them short in the silty channel a couple of rod lengths off the bank and spombed out some more Crumb mixture.
The wind is now starting to swing around to the west, along with the odd carp still showing. I'm feeling very confident and even losing one last night, tells me that they are feeding in the bay.
Just before 8 pm, the right-hand rod bursts into life. After a short but entertaining battle, in these shallow waters, my first Airfield carp was finally in the net.
I'm well chuffed with this carp, it's been a long time coming. The rod is back on the spot and I'm hoping it will rattle off again at some point.
What a gorgeous morning to be out here with the wildlife. I was hoping that one of these rods would have rattled off again before dawn. I had a single bleep at one point in the night, which boosted my confidence that I had a chance.
I need to start packing up at 8 am and I would like to be on my way by 9am.
Yesterday morning, I was flicking bait everywhere, and this morning, I'm going to wait and hope they come and feed on my baited spots.
Fingers crossed for the last hour.
It was all silent out there and it was soon reel in time. I'm hoping to get one more night in before my daughter's birthday party weekend, and our annual camping trip in Wales. If not, then I will see you all in June. It's then a big push before the school holidays arrive in late July. Where has this year gone? I spent months waiting for the warmer weather and it's arrived but will be over. I will soon be talking about winter fishing plans.
Until next time
Richard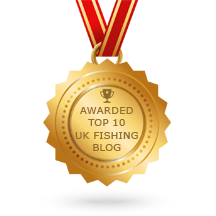 Get 30% off WW5KFTK @checkout