I'm out for a 4 night Social with Ian. The current heat wave may be against us, but it's all about the social this trip and we really needed to be in a shady swim.
I arrived down the first lake at about 7 am, we'd decided that it was worth looking at Meadow Lake first and then heading over to the Airfield Lake if needed. There really was only one swim that we could double up in and was in the shade, this is what a social is about.
Our first choice was taken and I don't blame them, it's shrouded by trees. I picked on another one and headed off for a walk and a chat with a couple of other syndicate members. I found one was heading off in a few hours and as Ian wasn't due down for anything 3 hours it felt a good option.
I called Ian and discussed our options, he agreed that this was the best and I dropped a bucket in the swim – after checking the current occupant was happy. I headed off for a good walk about and a double check on the swim situation, it was definitely looking like the perfect answer.
I managed to get my kit sorted, with the exception of the rods before Ian and the sun arrived on my side of the swim. Mornings were definitely going to be spent on my side and afternoon on Ian's side. The temperatures are due to reach 30 degrees.
We were all done with the exception of casting out by 11 am ish, this was good going as the temperature was ok.
I'd found a couple of perfect spots and baited them quite heavily with 12mm boilies. I was fishing a krill hook bait with a 12mm Catalyst pop-up, one white, the other pink over the top.
The afternoon was spent avoiding the sunshine enjoying a few glasses and catching up on stuff since we had last fished together.
Time soon passed and the sunset arrived, we were full of anticipation for the night, and maybe one of us would catch.
The night passed bleep free for me, and Ian had a couple of liners. That was really it for the first night, we have a few hours left to catch through feeding time. Then, I think the day will be down to luck if we catch anything.
We were sitting outside in the shade, happily drinking coffee and the left-hand rod ripped away. I was pretty lucky as it tried to weed itself up. I maintained the pressure, the carp was soon free, and heading to my left, trying for the overhanging trees, I walked back slowly to maintain the pressure and guided the carp straight into my margins. It was a case, then, of simply playing out the carp under the rod tip.
Once the carp was safely in my Nsr50, we sorted out the camera kit and poured a few buckets of water over the mat in a sling, in preparation for some snaps.
I'm happy with that start, With any luck, it will continue over the next few nights, all we need now is to get Ian a carp.
With both swims topped up, this is part of our baiting plan for these few days and with fresh baits on it was time for a glass.
We had a great afternoon and evening, and we settled into our bivvies just before midnight. My right-hand rod rattled off just be 4am, and with minimal issues, it was in the net after 5 or 10 minutes.
Nice one. The bait is back on the spot, it was time to get some more shut-eye.
The heat of the day was soon approaching, breakfast was in order.
I'm glad we had food early because by 2pm I was really in need of more, probably too much wine last night.
Steak, chips, mushrooms, onions, and tomatoes were on the menu, followed by a couple of cans of Guinness. Around 5pm, it was time to top up the swim a bit, get some fresh hook baits on and get the rods out for the night.
The sunset this evening was absolutely fantastic, I never grow tired of sitting watching them.
Just before midnight, Ian's right-hand rod was away, he was attached to something big. It just held its ground, Ian did start to gain some line back, at this point, it ripped off again and was aggressively taking line, Ian was hanging on trying to gain ground. The hook pull out and that feeling we all know, fell over him. He got himself together and got the rod back out onto his spot.
I was hoping, as it was so early in the night, that another rod stood a good chance of going off at some point. Unfortunately, this never came to fruition and we started our last 24 hours. This was my last trip for about a month. I'd planned a few weeks with the family away in Southern Ireland and would not be on the bank again until mid-September. I've only got two weekends free that month also. Autumn would be in full swing by the time I was back in my routine, but Summer is all about the family really.
I hope that Ian catches something over the next 24 hours – these conditions have been trying in the heat, however, I've been surprised how well I've coped with the high temperature. However, I couldn't have been out gardening or even anything, as it would mean moving around too much! I end up dripping with sweat – lovely.
This afternoon was not so hot, however, there's a good blow on the water and the pressure is pretty low and I feel there's a good chance of a carp or two tonight.
The sunset and cloud formations were absolutely stunning tonight and I hope this brings us both some luck as we go into the last night.
It was another carp-free night and packing up time. As the forecast for another hot day, camp was down early and I was going to spend the last few hours sitting by the rods. Always in the hope that a carp still fancied a feed. 10am was going to be my limit, it really started to get hot after then and a fair amount of shade had gone.
It had been a cracking 4 night social and would've really been nice for Ian to land that carp he had hooked, which I'm certain would have been the biggest of the trip by far.
But that's fishing for you.
It's now time for a couple of weeks off, out and about with the family, with lots of beach fun, I'm sure.
Until next time
Richard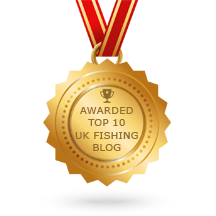 Use my code for 10% discount
The discount code applies to the entire order when purchasing the Deeper Sonars PRO, PRO+, PRO+ 2, CHIRP, CHIRP+, CHIRP 2, CHIRP+ 2. The code is valid in all countries.
CODE = DEEPER-H-9OCSF
Get 30% off WW5KFTK @checkout