I'm back out on my syndicate water for a couple of nights. The weather is certainly looking a lot better, I'm very hopeful that there's a good chance of a carp this session. It has been a lot harder this year, mind you, I was restricted by covid restrictions last year, and if I remember correctly I was only doing days locally and then straight onto the Airfield Lake.
I did have other plans, which unfortunately didn't pan out. I will write about it sometime in the future – when I feel like bringing it up again. All I will say at the moment, it was a big kick in the teeth for all involved.
I'm all set for another year on the Airfield Lake. I'm getting my spring plans underway, with a slightly different approach to the lake this week. With any luck, I will bag that monster that's been spotted numerous times over the past couple of years. I may even have a play about a bit more on Meadow Lake on the summer months.
Time to focus on this fishing trip. I arrived back down the lake at just before 9 a.m, and there were a couple of other members pitched up. I took a drive about and spotted a couple of carp showing over the far side. I quickly got back in the car and took a drive around to the nearest swim. I waited a couple of minutes and sure enough, it stuck its head out a couple more times. This secured my choice of swim. The weather conditions where very favorable, there's a dip in the night temperatures on Friday and going up in pressure on Saturday, but there's going to be a good blow coming to stir them up over the coming days. The daylight hours are getting longer as well.
My plan for the first day is simple: to fish singles and bags until about 4 pm, then get some bait into the swim and build it up over the coming days.
I spent quite a bit of time over the day, considering my options of where to place my baits for the night. I was also regretting setting up down the same end as the Canadian Geese were feeling the coming spring – lovely.
I was still going to wait until dusk to bait up and move my rods; that's if I actually believe there's a more favorable spot.
Single sticks this time as I need to have a bit of space to play the fish, when (and not if) I catch one – let's be positive about this trip. I didn't move them in the end as I felt that I was in the best spots already, I simply spombed out six groundbait balls and a couple filled with boilies over each area.
Just after 2 a.m, the left-hand rod gave a couple of bleeps, I was up and quickly in my boots, touched on the rod, the bobbin was up and holding up. I got out and knelt by the rod just as the bobbin dropped down and quickly pulled up. Oh, joy! The bream have found my spot again, as I pulled into my first one of 2022.
With the rod back out, a rain shower arrived, which was lucky, it would've been a bit frustrating 10 minutes ago.
I had trouble dropping back off to sleep again. I heard another fish crashing out over the dark hours, and I was getting a real buzz; the conditions were just perfect.
Ian is going to pop down again, in the hope of replicating last week's result. Fingers crossed, he should be bringing the sunshine.
Ian arrived after the ran had passed. We spent the day chatting about the recent events and planning for another session after that monster on the Airfield Lake and how we can approach it differently this year when it opens up again in mid-March. I can't wait for those long summer days, wide-open spaces and all that open water, it's magical there.
I rebaited both rods and put 3 half-filled spombs of Catalyst boilies out. Fingers crossed that tonight will bring a carp and not another bream! Why do I keep catching them?
I really enjoy wildlife photography. I don't carry a DSLR anymore, it's less to carry as my phone does an adequate job.
The night was silent in many ways, no bleeps, no sounds of fish crashing out or even the birds. Probably due to the temperature drop.
The sunrise was amazing. It was hard to pick a photo that encapsulated the moment; the morning glow, wildlife, frost everywhere. People wonder why we go out there and just sit watching, a lot of people ask 'what is there to see?' 'Oh, so much!' I say.
I've decided that I will head home today, one of the wife's friends has asked her if she fancies going out to the cinema. I think that would be nice for her to go out, as it's been a long time. There's always another day or night for fishing.
I am going to try and fit a day trip in next week on the club lake, but I'm not 100% sure I will manage to fit it in again. Arriving Thursday morning is a real bonus at the moment and generally, it gives me a great choice of swims.
I very much enjoyed my time out as I always do. Despite blanking on this lake, the scenery and the wildlife just keep me occupied.
Until next time
Richard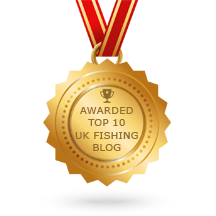 Use my code for 10% discount
The discount code applies to the entire order when purchasing the Deeper Sonars PRO, PRO+, PRO+ 2, CHIRP, CHIRP+, CHIRP 2, CHIRP+ 2. The code is valid in all countries.CODE = DEEPER-H-9OCSF