Location – School Lake
Hours Fished – 5hrs
After a lot of thoughtfulness over the past month, I've decided to join my local angling club, I very nearly did this last year before I discovered the Estate Lake.  It was a hard choice to make, but the whole point of having a local water was for my quick 5 hour trips during the week when the kids are at school.  However, the Estate Lake wasn't producing the goods and with Winter knocking at the door, it was time for a change.  I only felt that fishing on sunny days was my best option on there.  I would still certainly be giving it a go until renewal time and then a big choice would have to be made.
The local club lakes around where I live gave me two lakes for perch fishing and a good one for carp – no massive fish, but just perfect for those winter days on the bank.
I was very lucky that the membership man dropped my ticket round in person on Friday afternoon and with an hour to spare and a quick 10-minute drive; I was walking around one of the lakes and it was just like old times.  This was the first club I joined when I moved down here some 20+ years ago, I popped into another lake which holds Perch and Crucian carp.  I have not for fished those since I was a kid.  The lake looked perfect and I would definitely be going there in the Summertime for the Crucians and I would be after the Perch in the winter months.
Anyway, I digress; back to today.  I was amazed to find only one other person here and I had a good chat with him, apparently, it's pretty peaceful most days and not very heavily fished.  This sounds perfect and I will refer to it as the School Lake, I'm not for naming where it is and prefer to make up my own name up for it.
I walked down to where I had spotted the carp yesterday and within a few moments, a carp topped and then again – well that was my choice made up.  They were clearly still in that area and had been here since yesterday.  I knew there would be plenty of chod on the bottom, I had already rigged up a couple of pop-ups at home last night and clipped on a couple of bags filled with Catalyst pellets only, they had been soaked in the syrup overnight and flicked these out.  One just off the far bank and the other 3/4 of the way across.  As the next few hours passed there were clearly still fish in the area and it was only a matter of time.
It was about 0945 when the righthand rod (with the masala pop up) dropped back and I quickly pulled into my first carp – not the biggest but a carp and its a start.  I can build on this and there where plenty showing themselves.
It's a start
With the rod back out with another bag on, I was feeling pretty confident.
It's certainly nice to feel the warmth of the sunshine today, we have had a few weeks of horrible rain.  There are a few carp showing today, which is nice to watch and gives me some hope for the coming months.  I'm sure it will certainly get hard as December and January arrive.  I have just about an hour to go before pack uptime, as we have friends over this afternoon and my wife kindly let me go out.  I was pretty keen after getting the ticket yesterday and seeing carp then as well.  It's a shame I'm unable to get down for another week, I may just be lucky for a quick 3hrs one day.  I'm pretty keen and you know me… it's bound to happen!
Until next time
Richard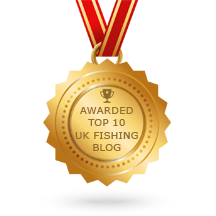 Please subscribe to my Video Diary
Consultant For

Sponsored By