With the festivities over and done with for another year, the kids are back at school, I'm out for my first trip of 2022. I was down the lake early on Thursday morning, I was hoping to arrive Wednesday afternoon, but my car wasn't ready. It had to go into the garage for a service and mot. I can do three nights but I don't think it's worth the effort with the weather conditions as they are. The weather is going to be all over the place. When I arrived it was -3C, by this afternoon there will be 30 mph winds and heavy rain followed by minus temperatures, it's going to be exactly the same again tomorrow. Not ideal.
I arrived about eight-thirty in the morning to find only one other person on the lake. I proceeded to have a good look about and didn't spot a thing, which I thought would happen. I had been thinking of my options on the way down here in the car (as I do). The crux of the matter is I would like to head home Saturday morning before the day of rain arrives, but it's due between 6 and 9 am and unless I'm willing to pack up in the dark, it's going to be a wet one. I felt it best to be pitched up near my car for a quick getaway I'm not a fan of soaking wet tackle if it can be avoided. These carp just don't like the rain one bit, they love the wind, which is one positive for this trip and we will see how long I end up staying.
My choice was finally made, after lots of standing about, the car is quite close by. Mind you, there are seven swims to choose from like this, which is something I love about this lake, it certainly helps in the winter.
I checked out another spot that I'd fished some years back in this swim, with Deeper, and it was pretty clean.
I was definitely putting one there, and the other one was going on the spot I had fished on my other trips in December. I baited up with a mixture of crumbled boilies, maize, and a few whole catalyst boilies.
I didn't put out a great deal – three spombs over the closest rod and tight together, six over the range rod, spread out and leading towards the channel entrance. Hopefully, to intercept any carp moving in and out of that area, My reason for fishing this swim is because there is a lot of sanctuary areas close by and I felt that completely fishing open water was not the best approach yet.
Both rods would have Ronnie rigs with a small wafter and a 12mm pop-up on, which sits perfectly. I would be playing around with colors in the hope to grab the carp's attention and hopefully bring me a bite.
The night was cloudy, wet, and then probably frosty – I didn't get out to check. By dawn, it was chucking it down again, and then it all went flat calm and sunny.
I'm really going to have to check out the forecast today as it's looking like rain all day tomorrow, and these fish don't like that at the best of times.
I would like to fish the night and slip away first thing in the morning, but the rain looks like it will arrive in the early hours. I will need to wait until this afternoon before I make my mind up based on the forecast, hopefully, it will be more accurate by then.
The decision was made. Rain is rain due this afternoon until earlier evening and it's going to start again in the early hours. That was the latest forecast at midday. My plan is to pack away everything, other than the rods, wait until the rain starts in the hope of a bite just before.
Unfortunately, that was that and I headed home, I will be back again next week.
Until next time
Richard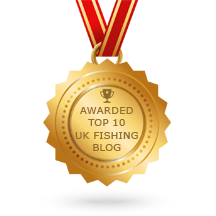 Use my code for 5% discount
The discount code applies to the entire order when purchasing the Deeper Sonars PRO, PRO+, PRO+ 2, CHIRP, CHIRP+, CHIRP 2, CHIRP+ 2. The code is valid in all countries.CODE DEEPER-H-SNL5Q Copy