Location – Estate Lake
Hours Fished – 5hrs
I'm on the estate lake for my Monday trip and the conditions are looking favorable.  However, I am mindful that there was quite a long gap between my catch's on this lake and I must not get too overconfident with things.
I'm using 3 rods again today again but may just stick to 2 in the future.  I have grown quite used to two rods after being on my syndicate.  Rod 1 is in a nice clear area, where I lost my first take last time on here, the other 2 are close to the small island and in a small bay, both these areas I have been baiting over the past few months.
The hook baits are still varied until I get a better understanding of their preferences related to the time of the year and presentation situation etc.
I have just seen a carp roll already in this part of the lake, which is a first for some time during the daylight hours. The hook baits I've gone for are all Catalyst which is what I'm baiting up with.  I've gone for 12mm white, 12mm Glugged and a 15mm wafter, I have had takes on all three so I am very confident the carp are on the bait.
I also I'm testing out my Gorka 4 suit from Grizzyman Clothing and have purposely not worn any other thermal stuff – only thin clothing.  I know it's not Winter yet, but I generally get pretty cold sitting about at my age or it could be those long cold days pike fishing in the 80s with no protection from the elements.
I've got about 20 minutes before its reeling in time and its just not happening today.  There has been a pretty harsh wind blowing and the daytime temperature is pretty low compared to the last few weeks.  Maybe this has affected them?  I've not seen any fizz ups today, which on previous times despite not catching they were very common.  There is a little bit of blue sky and if I'm lucky the sun will be out, it may inspire a feeding spell.

Unfortunately, it was not to be and I will certainly be back soon for another go.
Until next time
Richard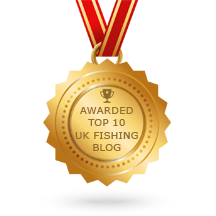 Please subscribe to my Video Diary
Consultant For

Sponsored By