With a few hours to spare today and I'm still not feeling 100%.  I'm out day fishing again.  I'm aiming for my first night trip in over 3 week's this coming weekend!  The Airfield Lake will be open and I just have to be there.
Today, I'm on my Estate Lake after a walk around with the eldest daughter yesterday afternoon.  I felt pretty inspired.  The swim selection was pretty straight forward as I plan to fish a couple of different areas each time I come, this is to get a better understanding of the lake over time.
I'm just flicking a couple of baits across to the far margins. after first walking around to put some pellets and broken boilies out.  I'm using a mixture of catalyst & Smokey Jack boilies and the same for the pellet.  The rods have a Miracle Berry Wafters with a washed out and the other a Evo maggot cluster .  These have been soaking in the catalyst boost spray for quite some time.
With conditions pretty perfect and some sunshine to warm up the lake, I am very confident.
With less than an hour to go, it wasn't looking hopeful, I had managed to spot the same 4 carp as I had the other week.  These I understand are the latest stocking which happened about a month back and they certainly prefer the warmer end of the lake.  I may just head back that end again next time (or stick to the plan of investigating other options), or see if there are other carp up that end.
Unfortunately, it wasn't to be.
Richard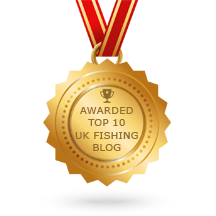 Please subscribe to my Video Diary
Consultant For
Sponsored By