I have come back down the local lake today after the Perch.  This time, I am armed with two rods and a pot full of prawns, in the hope of bagging a better fish.
I am still learning about perch fishing at this stage, I used to do it many years ago but things have changed so much.  But fishing is all about learning and I am finding it very enjoyable.  Don't panic, I will never lose the love for carp fishing and I will be out soon after then again, I just fancied a change.
I had a small bit of action but didn't hook the fish, it got away with the bait.  I gave it another 45 minutes but just couldn't connect to the fish.  Very frustrating, so time to move on.
My second swim showed no signs of any fish but looked pretty perfect, so I gave it a go for 30 minutes.  With not even a knock, time for the third swim!
This had produced fish in the past and there were little signs of small fry.  So I was hoping for some action and sure enough after about 30 minutes, the center pin rod was away and I was into a lovely perch and it was soon in the net.
1 lb 10 oz
With the rain really coming down hard, I put up the brolly and hunkered down for a bit in the hope that there must be another fish out there.
With no more knocks and a break in the rain, I quickly moved to my last swim of the day, which is next to the one I started in but a different angle to the pads and maybe a fish.
With only just over an hour left, I was very hopeful of another perch, but it just did not happen.
Until next time
Richard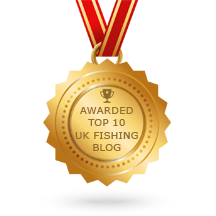 Please subscribe to my Video Diary
Consultant For
Sponsored By