This year started off very hard, with the passing of my mum just before Christmas 2017.  We then visited my dad in Wales a number of times over the following months.  Oh and don't forget 'The Beast from the East' and a load of snow.
It put pay to a slow start in March and the incredibly hot Summer my start on the airfield lake was very slow and hard going.
This continued through the summer and in the end, I was catching fish, however, they were mostly all around the 10lb mark.  I only managed to scrape a couple of low twenties from there.  I know you can't pick which carp pick your bait up (unless you are floater fishing) but it was getting silly by the end.  I wasn't the only one having this issue, as the lake is mostly very shallow, I don't think the carp like the hot water temperatures for all that time.  They just took sanctuary under the trees which in general are in the out of bounds areas.  We shall see next season!
In these conditions, I gave up earlier than normal and headed over to Meadow Lake.  This is when my year turned around for me.  Right from the start in the form of a new PB Common & Mirror and some other stunning 30+ carp.
This all goes to show that if you work hard and don't lose faith in your ability to catch, the results shine through.
Spotted Fin is going from strength to strength and produce a pukka hook bait – Squid & Pepper.  I was lucky to be part of the testing and it certainly produced some great fish over the months and still is late into December.  It will be very interesting to see how it competes with the mighty Catalyst over the winter months.  Overall, I have done very well with my consistency of catching and once I changed the lake, the bigger fish arrived.  My year was pretty good all round.  In the end, I did fish less than normal due to family stuff this year but that was to be expected really and next year may be a bit of the same until my dad moves closer to the family.  These things take time and are all part of the every day fisherman's life on and off the bank.
P.S
I have received some amazing news just before the Christmas break from Pele at Spotted Fin.  I am now part of the consultancy team, which is truly amazing and I can't wait until 2019, to get stuck into some new product testing.
Until next year
Happy New Year
Richard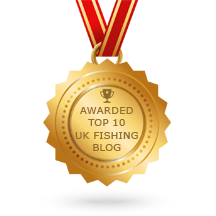 Please subscribe to my Video Diary
Consultant For
Sponsored By

Please follow my Facebook Pages
Come join my Facebook Group
Hampshire Carp Anglers