With yesterday bucketing it down for most of the day, today was certainly the better option after the rain had passed. It was forecast to be a lovely sunny day and the first for some weeks but there was still a bit of a blow.
I arrived just after 11:00, there was certainly no rush today and I planned on staying until 5ish, in the hope that I will finish my blank run. This is certainly not the same lake as last year, which must partly be due to the pandemic and the cold weather we've had, as last winter was very mild.
After looking about and not a hint of a carp but there were a couple of other anglers up by the island, I positioned myself with a good view of both ends. I dropped a couple of baits in the margins and will hopefully either spot some carp and move onto them or they will pick up a bite of one of these rods. Just after 1330, I decided it was time for a move and the back of the island looked ideal. It was at the back of the wind and in the sunshine, so would definitely be warmer than where I was. I had a great view down the lake, to spot any signs of carp showing and I would stay here for a couple of hours. If there were no signs of any fish I would then move again.
14:15, the right-hand rod was away and off around the corner of the island. I had to run down the bank, so I could get into direct contact, it was heading into the bay. I turned the carp and it was now running towards me and off to the left, it was only small, but it wasn't giving up that quickly.
It was just after 14:30 and the other rod was away, attached to another hard fighting demon, that was also trying everything it could to find a snag.
They are both pretty small, but as this is the only lake I can fish at the moment, it's certainly better than sitting it out at home on the sofa! Hopefully, things will start to return to normal soon, not sure what the new normal is at the moment though, just a little bit more freedom will be nice over the coming months.
Within the hour, the left rod was away again, but this one dropped the hook soon after the take. I checked the hook, which was still needle-sharp, and flicked it back on the spot, just as the heavens opened again. This shower didn't last long and I was treated to a rainbow.
Which is always a good photo opportunity.
With 3 takes and 2 fish landed, I was very happy. I was only aiming for just one carp, after the last few trips, great results and I will be back soon.
Until next time
Stay safe
Richard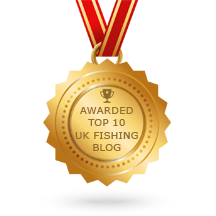 –