The weather was particularly Baltic last week and there was no way I was going outside. So, by some small miracle I or I should say we, as the whole family was involved, we started to spring clean the house upstairs and moving furniture about. This also resulted in a bit of decorating which I quite like once I get going, but this can take years!
The forecast was looking rough as the week progressed and it being half term for the kids, we had a lovely 4 day break at home. I pencilled in a trip on what I hoped would be the better day of the week. There was no point in gardening this week and if I hadn't lost my decorating bug, I would start another room over the next few days. I decided that I would start where I left off last week, as I'm sure that area is a bit of a hideaway for them. I scattered a few pellets and flicked my hook baits out and within 10 minutes, I'd had a heavy liner again. I adjusted that cast as I felt the carp must be closer to me and sat back, hopefully I've not pushed them to far away. I don't plan on staying in this swim for more than 2 hours – probably not even that long.
I moved swim and was all set up by 1230, hopefully get some results down this end of the lake. My options have been reduced as there are now 2 other anglers on the lake and we are all very nicely spread out. There is probably only one other spot I could've moved to, which was right at the back of the island and has produced carp. But this swim just felt better. I can just about see that area and watch out for any carp showing themselves.
I'm now in my third swim of the day and this time I've seen carp showing. With only an hour and a bit to go, it's certainly worth the effort. I got a good soaking on my travels, but with any luck the buzzers will rattle off, before I head home. I stuck with the same hook baits as they are pretty fresh and just catapulted a couple of pouches of Catalyst pellets over the top of each rod.
With time running out, it certainly looks like a blank again for me. It is going to be hard on here this winter and definitely not as straight forward as last year. I will definitely need to get my thinking cap on over the next few days. It would be nice if they stuck their head out more. Last winter you couldn't fail to see plenty each day, giving you a fair crack of bagging a few.
Until next time
Stay safe
Richard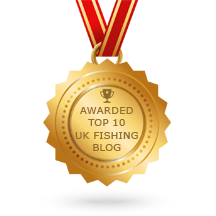 –