Location – Ice Lake
Hours – 2 Hrs
It's about time I started Perch fishing, I enjoyed every minute of it last year and I have a few lakes to have a play on.  There isn't much information on the size of the fish, but that's not a surprise as its very secretive with specimen hunters!  So it's going to be a lot of hard work and perseverance on each lake.  I'll stick to one lake each trip and try to divide my time by splitting them up over different sessions.
After spending two hours in one swim; flicking the baits about by the dead pads.  It was clearly time to get the Deeper out and locate the baitfish.  You'd feel that this is very simple on a small lake but there are so many nooks where they can hide, it took me over an hour.  There were a few definite spots worth a try, but I may have to get some worms or try live bait.  It was clearly going to be hard work and a challenge that I'm definitely up for.  I can easily split this up with the odd carp trip.
After not even a knock, I headed home early in the hope that the other lake was empty and I could quickly get the Deeper out on there in advance of my next trip.  Unfortunately, not this time as I don't particularly like the idea of disturbing another angler's tranquility, so I headed home.
Until next time
Richard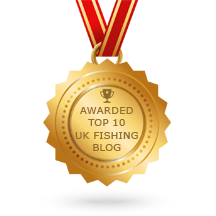 Please subscribe to my Video Diary
Consultant For
Sponsored By