Location – Coombe Lake
Hours Fished – 5 hrs
With yet another rainy day forecast, I did think it had gone away, but nope another wet 3 days on the cards, but it should stop before my week-long trip next week.  It is due to turn dry and cold, frosty mornings with high pressure, it is going to be hard work catching any fish.
Well same swim, same spots, different day and a good helping of bait, I put it out yesterday afternoon.  This was in the hope of attracting the carp and holding them in the swim until this morning.  I think I just may name this swim 'Lazy Mans' as it's so easy to set up in.  I do the set up in my truck, walk through the gate and flick the baits out, its really all about simplifying the process for wet days – just like the past few weeks.
I'm planning on doing two nights here for my next trip, which is why I have been baiting up so much and taking the opportunity to refine my spots.  It's not looking too promising currently, I can only hope their feeding spell is later afternoon and overnight.
Well, it's looking like another blank for me on here, this doesn't bode well for my two nighters, but I feel you have to try these things out to gain knowledge of the lake.  The more time you spend on the water the more you learn.
Until next time
Richard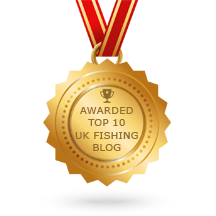 Please subscribe to my Video Diary
Consultant For

Sponsored By