Location – Estate Lake
Hours Fished – 5hrs
Back from two nights on the big syndicate and the house husband stuff done.  I am trying to stick to my Monday day session on here, it's just hard work after packing up at 6 am on the other syndicate.
I'm sticking to this swim all Winter, as it gives me easy access to bait up and fish from and it will simplify things if I can fit the odd night in as well.
I will stay on the same spots which I have baited twice since my last trip; once when I left and the other on Wednesday evening.  If I can stick to this routine, hopefully, I will start to get some results sooner rather then later.
Its noon time now and I have finally spotted a carp, it wasn't too far away from my baited area.  They certainly don't like to show themselves in here very much.  I had a look round the back of the island earlier on and I think there was fish at the back of the weed bed, but I was not going that far away from my rods.
I do hope I catch another one soon from the lake, otherwise, it's going to be a long hard and slow Winter.
I knocked up another blank today.
Until next time
Richard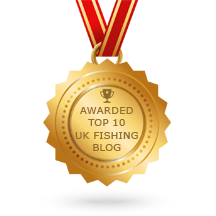 Please subscribe to my Video Diary
Consultant For

Sponsored By