I am out for my first night of 2019.  My youngest was have a friend over for the night and my services were surplus to requirement – phew.  I did offer to stay at home but was told it was a girl only weekend.
I arrived just after 9 am and had a chat with another member.   He had been on her for a few nights but was still happily blanking.  As the Christmas rush was over, the lake was a lot more peaceful and only 3 or 4 of us were on the lake.  It took me nearly 2 hours before I settled on this area.  I then proceeded to look for some new spots in this area.  I hadn't seen a thing looking around and purely pick this swim due to its location to the back bays and the sanctuary area.  Both are holding spots for the carp at this time of the year.  It's been fishing hard for both the day and night anglers over the past month, but from my experience over the last 4 sessions on here and speaking to other old members, this is what generally happens each year and the lake will pick up as we move through January.
Conditions are not too favorable but could be a lot worse, the pressure has started to drop slowly.  I find it more about the constant conditions over the winter months.
My right hand was fished on the drop off in a nice area I found with the deeper, this was away from the normal spots in this swim.
And the other was in a very nice weedy area that clearly would hold some warmth and a food source for the carp.
Both areas were baited up with the catalyst active ground bait and micro pellets.  They were all soaked in the Catalyst particle syrup.  The weedy area rod had a natural 15 mm pop-up and the other rod had a 12 mm Pink Black pepper and Squid wafter on.  With this all done, it was time to set camp up and get some food in me.
As the night started to draw in, the liners started and continued on and off throughout the night.  I spent a few hours awake, in anticipation of a run, which never materialized.  This was a worry, I started to think the rig may have got tangled.  It shouldn't have done but it does happen once a year (just to get you thinking every so often).  There was clearly some fish action over the area, just not interested in picking up my hook bait.
With packing up time here, it was time to pack down camp and head home.
And I hope we are back sometime this week.
Until next time
Richard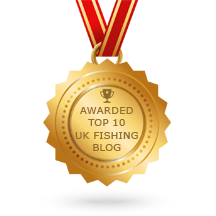 Please subscribe to my Video Diary
Consultant For
Sponsored By