This could be classed as trip 3 as I was out the other day.  Mapping the lake with the Deeper and also in the hope of finding a nice group of fish.  With the lake completely void of people and carp, I spend 4 productive hours mapping and discided to come back today in the hope of wetting a line.
So, after another good look round and still no signs of carp, (my rule for this situation, is if you just can't quite pinpoint the swim you feel confident with, just go for comfort and move on from there).  I've picked this spot on the smaller lake as it gives me a great view of this lake and the big lake behind me.
I did this to spend some time looking out for fish and the potential of moving swim.  One rod has been set up with a bag with a small number of pellets and a bucket load of SF Food Dip.  My aim is to keep this rod static and cast a single hook bait around on the other one.  Fingers crossed I may pick up a carp or if I am lucky see some signs of fish and move on to them or just take note for my next overnighter.
The static stayed static, with not even a bleep and I did my best with the roving rod and recast every 45mins.  I saw no signs of carp and the water was pretty still.
Until next time
Richard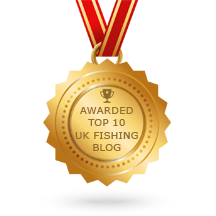 Please subscribe to my Video Diary
Consultant For
Sponsored By