Just one rig for me is a strange title and it opens myself up for a lot of criticism from other anglers.  But my aim is to be open about my fishing, make things simplistic for the everyday angler, make things less confusing and show you don't need a tackle box full of made-up rigs for every situation you come across.  My life needs to be as straight forward as most, as those of you who read my blogs will know I've written about my depression and I've found that over the year, the best way to combat this is by making everything I do straight forward.  Cutting out the complicated things and simplifying my set up is part of that.  I have utter confidence in this rig in all situations and with all types for hook baits.  It has certainly helped me catch a lot of carp over the years.
You need to break down the rig into its component parts to understand with a few small adjustments, the rig is changeable, capable of being fished in many different situations and with all types of hook baits.
So, let's break it down and give you an overview.
1) Hooks, a little unknown fact is that in most people believe that the Jrc 360 hooks was the best patten of hook for this type of rig and it has gone.  However, you may be wrong there, Spotted Fin have the pattern right and still today produce this very same hook.
2) Hook Beads, I personally like the translustane rubber one that has a very tight fit, but you must be able to move them up and down the hook.  This is to be able to adjust how your hook sits in the water.  Beware if the top one become too loose, it can move up and cover the micro bead on long range casting with big hook baits.
3) Gap between the beads, I personally like to be able to open and close the gap up and down the shank of the hook.  This is why I use two beads and not one.  It also, in my opinion, makes the rig look nicer.  If I'm using a small pop up you can have the bead at the top of the bend or if you fancy further down, it gives you more of a chod rig look to you rig – instead of the more traditional pop-up look.  You can play around with the beads to adjust your set up to suit the lake and how the carp feed, more than it would be possible with just one hook bead on the hook.
4) Shrink Tubing, I like to use 2mm black and very stiff tubing, as this keeps the whole set up in place.  I've found that some brands are too soft.  So, these days I get it via eBay in packs of 10, only use enough to cover the ring swivel and a few milometers up the hook shank.  You need to go a good bit up the shank otherwise when you catch a carp it will come away and make the rig unusable.
I actually make these up in packs of four in my tackle box, as I don't carry a rig board.  I prefer to make up the hooking material part of my set up when I'm on the lake, depending on which swim I'm in and the type of hook bait that I'm using each time.  This saves on wastage and costs less in the long run.  I'm sure most people have made up rigs they just don't use and still have on a rig board, I did for many years.
5) Hook baits, this rig is well suited for bottom, wafters, pop ups and in conjunction with changing the beads and hook link materials would work as well as any other rig out there.  This is in my opinion before a get loads of messages contradicting my thoughts and findings.
6) Hook Link Materials, there are so many combinations as the market is full of great hook link materials these days.  Firstly, bear in mind that if you use soft material, there is a chance of it tangling and you will need to combat that issue, but really soft materials do certainly work well and not spoken about much.  Going back to the point about different lakes and carp behave differently, if I use a hinge type Ronnie rig set up on the Airfield Lake (that I write about fishing in my weekly blogs on my website), I will bet you any money, I will get a very high amount of hook pulls.  Whereas I only use a stiff boom, which is very infrequently these days, it only took me a few years to work that out, but in the beginning when we were on there the hinged rig and D-rig, it worked perfect ok.
I've even played around with a loop at each end allowing the hook to rotate a lot more.  I'm simply experimenting to get the hook point to prick the carp's mouth and cause a take rather than a carp shaking its head to eject the hook without any indication.
7) Tangles, so far this rig is 99.99% tangle free.  For me, I don't believe there is a completely tangle free rig.  You always reel in at one point in your fishing to find a tangle, caused by something, but this can be reduced with this set up – I believe.
8) Bird Life, the other great bonus with this rig and the previous one – the 360 rig, if a bird or even a carp picks up the bait and the drops it, it will automatic reset itself and you can sit there knowing that it's still perfect and there's no need to recast, spooking anything out there.
9) Confidence, once you have confidence in this rig, your fishing will improve along with your success rate.  Anglers go on about keeping it simple and the less component parts the better.  I look at the Ronnie Rig as two parts really – the hook section and the ring swivel with shrink tube which is really an extension of the hook.  It creates a long shank style hook, like the original pattens which were band many years ago.  Then just add a bead, micro swivel, quite simple really.  I make these all at home and carry in single packets to protect the hook point and the hook link material.
I'm not going to tell you which situation and what type of hook bait to fish with or even where and when, simply because I believe each carp lakes fish completely differently and the carp completely behave in their own way.  This is something you will have to find out for yourself but remember the most important part is to keep adjusting the component part of your rig to get a better understanding of each capture, where the carp has the hook in its mouth, how good the hook hold is (each time) and take a note how you set up the component parts of your Ronnie Rig.
I hope this helps
Richard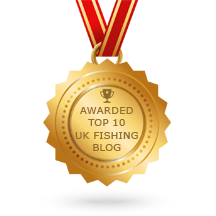 Use my code for 5% discount
The discount code applies to the entire order when purchasing the Deeper Sonars PRO, PRO+, PRO+ 2, CHIRP, CHIRP+, CHIRP 2, CHIRP+ 2. The code is valid in all countries.CODE DEEPER-H-SNL5Q