After a splendid holiday in Wales at my favorite campsite, Quay Lodge near Carmarthen, with the family and my dad.
We like to cook on a fire pit all week, it makes it quite special, and with luck, I can get the embers going each morning and carry on.
My beacon to celebrate the Queen Platinum Jubilee. It was like this most evenings, we did pop out to the beach for a few hours one day.
The beaches around this area are very peaceful and deadly quiet if you walk 100 yards away from the car park.
It had been over two weeks since I had fished and I was very keen to get back on the lake, especially as the weather was pretty perfect from the Wednesday onwards. Very strong South Westly winds, the odd heavy rain shower, the pressure was 1017 and creeping up to 1024 by Sunday, the temperature increasing 18 to 20 degrees, the wind was going to keep blowing over this period quite strong.
I arrived down about 1645 on Thursday afternoon and found no one about. The way the wind was blowing, I was interested in the same area I fished in on my last session. I drove along the track slowly, looking at the wind hacking down into this corner of the lake, and spotted a couple of fish straight away. I did fancy the Daisy Swim but it was far too open with these strong winds, I took a walk down there and I would probably need to set up facing away from the water and looking at the trees. The prospect of spombing 30+ wraps didn't thrill me, so I headed around to Badger Island and had a look at the first swim and the third swim. There were fish pretty much everywhere, which can be problematic on here, as spombing can push them away, but if you're careful, you can get away with it and they will drift back into that area again. However, if they're happy feeding all over the place, they don't necessarily come back until the next night. I've purposely baited heavily on the first night of three and when the weekend anglers arrive on Friday, they will push the carp back this way and will then have to bait up lightly over the coming nights.
I had no real choice, other than to set up here, as this is where the fish are. This time, I was going to start with a rod closer than normal, as this had paid off in the past for me. I'd managed to get quite a lot of bait out over a period of a few hours and I hadn't disturbed the carp too much. It was quite hard to work out which was the best range to fish, they were showing from extremely long to quite short. I felt my best option was shorter than normal for me considering the strong winds, hopefully, at some point, I would need to get more bait out there.
Just after 9 pm, the left-hand rod was away and I was into my first take of the trip, the fight was pretty strange forward – once I had convinced the carp not to kite right anymore.
That will do me and a nice start to my session with a few more coming my way. over the next few nights.
It was a tranquil night with the odd fish crashing and still going until noon today. They are showing all over the place at random times, it's proving quite hard to pin them down to one area at the moment, which I'm hoping will change over the next 24 hours.
I decided that I would leave the rods in place for another 24 hours, there's nothing wrong with the spots, the baits will be perfectly ok and this tactic has paid off before. If I'm still struggling, I will stick a couple of bags on tomorrow, flick the rods to my left, sit in my waders for the day and see what happens. There's been a few smaller carp showing out that way, but hopefully tonight will bring a take or two.
The right-hand rod finally rattled off, some 32 hours after casting it out and it produced my second common of the trip.
Sixteen pounds on the nose! It was worth leaving it out there on that spot. I soon had the rod back out and it was just after 1 am when I sat on my bed to write this and time to get my head down again, in the hope it wouldn't take that long again to get any more bites.
Before I managed to drop off back to sleep, the same rod was away again and this time the fish was more problematic than the previous one. It spent most of its time trying to get under the right-hand bush constantly until I finally got it in the Nsr50.
At first, I didn't think it was bigger than the previous one, but now looking at the length of the fish you can see where the extra weight is coming from and that tail was making it like a torpedo!
The rod was back on that very same spot and the time was a couple of minutes to 3 am. It really sounded like the carp had started spawning again or the geese had gone crazy over something as they kept kicking off with their honking. It would surprise me if they were spawning for about the six-time, since they started in early May and it's now very nearly the middle of June, but they are a funny lot on here, so you never can tell.
That wasn't a bad night's fishing, I even got some sleep along the way, I think.
I've decided to pull the rod from the deep water today and try to pick a few fish off to my left. This will evolve me sitting in my waders all day long, which will be enjoyable. I may need to move into the shade at some point. I was quite surprised how inactive the rod's where in an area that generally produces daytime takes.
I'm going to leave my rods where they are, but I will be sticking out a few 20mm Classic Corn Boilies around the left rod and do about 8 spombs onto the right spot. Hopefully, tonight may bring a take on both rods.
The last rays of light are fading and I'm full of anticipation for my last night for a week or two, the wife is traveling for work next week and I'm a full-on househusband. If I'm lucky, I may slip in a day session or an afternoon on the bank. However, the pressure is on the rise and the temperature is certainly on the rise – up to about 26 degrees and not my sort of weather. I may need to sort out the floater kit and push a few of my gardening jobs forward to the beginning of the week.
All is quiet here and I'm starting to wonder if the fish have bugged out. The wind has completely died down, and I'm only hearing the odd fish crashing. To my right, I'm confident that my decision to stay in this area will produce the goods at some point, but tonight is proving hard going. I've done everything spot on, let's hope the conditions don't let me down.
Just after 21.30, the left-hand rod finally ripped off, after recasting it this morning. The fish had taken the line around the nearest boulder and despite my best efforts of giving line and trying different angles of approach and eventually the line parted. This is really gutting. After making up another rig, I put the rod back out to its original spot at 20 wraps and away from any of those boulders. I knew I was taking a risk, but I was not aware of any snags in that direction and at that distance, hopefully, I will get another chance later on tonight.
It was looking stunning out there.
Just after midnight, the left-hand rod was away again, but this time in its original spot. It was kitting very much to the right and heading for the dead trees. In an instant, a fish is lost if it gets there. In my attempt to get the rod under the other one and be able to get out further, I clipped the rod tip on the higher branches and hooked the line up. I just had to do my best and keep pumping the fish away and at the same time trying to get the line off this branch! The fish was getting closer to me and I could hear it on the surface down the margins. I knew at that point I must get that line free or the angle would allow the carp to get under those branches. I started wading out further, being mindful of the further I got out there, the deeper I was going. I lifted the rod up as high as I could go, whipped it down quickly and it came free. I quickly got that rod tip under the water, to avoid any branches again and then slowly walked under my other rod tip. Now you can understand why my rod tips are so high on the pod, not just to keep the line up and away from those horrible boulders and bars, but to enable me to get under them when playing these crazy carp.
I walked along to my spot where I can happily play the carp, by now it was away from the dredged bush and off out into open water again, it was kitting to the right again but, I was safe in the knowledge that I had it more under control than the previous time and I slowly gain ground. Despite its numerous attempts to go down that margin, at one point it gave up and headed off to my left and then back out into open water. At this point, I was worried again about the newly found boulder where I lost the carp earlier this evening, but it was off to the right again. It didn't stand a chance really anymore and I slowly played the fish out under the rod tip until it was time to net it.
So much trouble for a small fish! It's those tails and the shallow water that turn them into rockets. This is why this place is so amazing to fish. The rod is out again and it was time to get in the bag for some well-needed shut-eye.
Around 3am, the left-hand rod was away yet and to another hard-fighting carp who was also determined to head right up the margins. I did finally gain ground and got the fish under the rod tip for a few moments before it headed for the bush. I had no choice but to hold my ground, but unfortunately, the hook pulled out and it was away running free.
At 5 am the same rod was away, this time I was prepared and gained ground fast, I also waded out further, this time it worked very well and another carp made it to the Nsr50.
This was a lovely-looking carp and I was pretty happy with my results. I did wonder if there's another possibility of a carp. I'd also taken the opportunity to reel in the other rod and got it out at range alongside the other rod, hopefully, this approach and change of tactics may just work.
It was a lovely misty start to the day and the lake was looking stunning as always.
Unfortunately, that was the end of the feeding spell, and they were different starting to spawn again, in fact, they were all over the place by 8am and it was definitely time to head home.
Until next time
Richard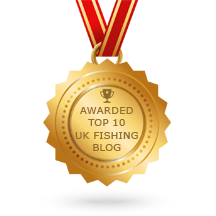 Use my code for 10% discount
The discount code applies to the entire order when purchasing the Deeper Sonars PRO, PRO+, PRO+ 2, CHIRP, CHIRP+, CHIRP 2, CHIRP+ 2. The code is valid in all countries.
CODE = DEEPER-H-9OCSF