Location – Icehouse Lake
Hours Fished – 5 hours
I'm back out after the Crucians for a few hours this evening.  I've picked another swim on the lake and will eventually pin point their favourite spots.  There is actually another angler on the lake, it will be interesting to see how he gets on and what he is after or just out for the pleasure.
I've one rod float fishing it has a small piece of sweetcorn on and the other with a 8mm pellet (just out of interest to see what may come along).  I under arm flicked this along the margins to my right with a ball of method ready pellets squeezed around the hook.
Both spots have a scattering of pellets and a bit of corn to feed the swim.
The first two hours were uneventful with only a few knocks, but there had been a few fizz ups which were promising.  I thought I would check out the other swims and make a move for the last few hours.  However, after looking about, I felt I was better placed where I was and disided to say in the same swim.
The downside of fishing light tackle when a carp picks up the bait, you get smashed up.
Despite my best efforts and hard work it was a blank, hopefully back next week for another go.
Until next time
Stay safe
Richard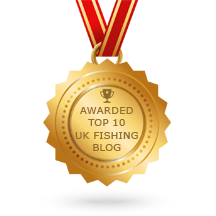 Please subscribe to my Video Diary
Consultant For

Sponsored By

Please follow my Facebook Pages