Location – Meadow Lake
Hours Fished – 38hrs
With a change in the weather conditions; from freezing to +8 degrees C overnight and S/W winds blowing there was no stopping me getting out.  This did involve setting up in the dark to take full advantage of getting two nights on the bank.
I did two laps of the lake and could only see one other angler on the lake.  After my last blank trip on here and a few discussion with other syndicate members over the week, I was heading for a couple of areas.  Lucky for me, my first choice was free and after not seeing any signs of Carp on my travels around the lake, it seemed like the best place to start.
I selected my spots and check them out with the marker – they were still nice and clean.  I then spombed out 15 or so medium on to one spot where I was 100% confident in, then settled on the next.  I only chucked out six spombs, as I would fine-tune that rod tomorrow morning.  I was using my trustee Ronnie rig with a PPS pop up on one and a Catalyst wafter with a 12mm PPS pop up on the other.  The traps were all perfectly set.
The night was very uneventful from a take point of view, however, the location of the Carp's whereabouts was certainly discovered.  As the morning progressed, a Carp stuck its head out.  The downside of this, I was close to their location (but not too close), however, I was the only night angler who could put a bait near them.  I really need a day angler to go in one of the days swims, however, they are mostly underwater.  It was very nice to see signs of Carp moving and maybe tonight I may even catch one?  There was a heavy band of rain due to push through, which I'm not a fan of here.
Just after noon, I set about getting the rods all done for the night and top up the spots with a little more bait.  I then sat back and relaxed watching the lake all afternoon.
As night closed in another Carp rolled not to far away from my spot and I hoped this was a sign they were getting closer to my baited area.  I was also hoping other anglers would turn up and push the fish towards me.  Unfortunately, the reverse happened and I'm the only one on the lake tonight.
Just after 11pm the wind really picked up and the heavens opened for a fair few hours.  I think spoilt the best chance of a bite last night.  I hoped that once the storm passed there would be a possibility of a take at first light, this was not to be.  I really felt that the conditions changing this weekend would put them on the feed, they may well have had been on the first night.  I was just too far away and they just didn't move to the bank far enough and just stuck it out on the sanctuary.
Until next time
Richard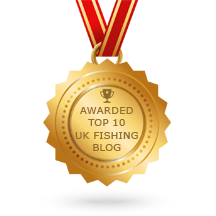 Please subscribe to my Video Diary
Consultant For

Sponsored By