Location – Meadow Lake
Hours Fished – 44 hrs
I was unable to get down the lake until Saturday mid-morning, the wife was out at the ballet with a friend last night.  By the sound of things, the lake was pretty rammed and I don't blame them, the conditions this week have been spot on and a few carp have been banked.
I arrived just after 1030 and found the lake pretty empty, as most of the Friday night boys had headed home.  So I was in with a chance of getting in one of the prime swims.  The wind was belting down this end of the lake over the next 48 hrs and another good storm was pushing through over the next 24 hrs.  It certainly felt like the best option.
I set about checking over the areas with the Deeper.  I was looking for a weed bed and a nice clean gravel area in front of it for better bait presentation.  After finding a couple of perfect spots I was very happy with, I spombed out about 10 ground bait balls over each area.  I like to do this in the Autumn months as you get a better concentration of particle bits – rather than a spread over a great big area.  You can never really tell where it will end up when there is a big blow on the lake.  The under toe will carry smaller particles away from your area.  I also put out plenty of 12mm Smokey/Catalyst boilies and I was fishing a pop up and snowman both on a Ronnie rig set up.
Unfortunately, my baiting up skills where rubbish this weekend, I spombed 27 wraps last weekend perfectly, this weekend I was sending them all over the place and only fishing 16 wraps out.  These things happen.  Just a bit more spread about then I would have liked.
The first take happened just after 1930.  Unfortunately, it was a bream, not had one of them for some time.  The rod was soon back on the spot and I was drying out in the bivvy, the rain had arrived, as forecast.
Wow, that was a wet, windy night on the bank and with no carp to my name.  Mind you, I wasn't surprised as I still can't pick up a take when it's chucking it down.  I was hoping for a take first thing after it stopped……still waiting!
I re-baited the hook baits just after 9 am, to freshen up the baits and we will see how today goes.  I have spotted a couple of carp top near the left-hand rod, so my confidence was building and with any luck, I would bag a carp this afternoon.  I topped the swim up with a few more balls of ground bait and boilies, sat back and watched the swim.
Well, I waited all weekend for a take and it happened at just at 3 am.  The fish headed into the weed and managed to shed the hook.  Not what I needed, but you live and learn.  With an early pack up, my head was soon on the pillow thinking about it and eventually, I drifted back off to sleep.  The alarm clock was off sooner than I hoped and it was time to get home.
Until next time
Richard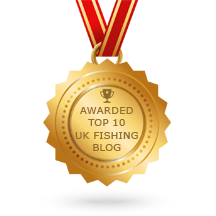 Please subscribe to my Video Diary
Consultant For

Sponsored By