Well, it looks like I'm turning into a weekend angler.  Work is taking up too much time, I can't really complain. Both lakes are open together until the end of September and there are a great many choices now.  Ian is arriving on Thursday most week's when we do a social, it gives us a great chance to have a look round both lakes before we pick a swim.  I still only get down on a Friday afternoon, this time it was around 1630.  My youngest daughter was up for another night on the bank.
The Airfield Lake is not performing that well and the carp in Meadow have not spawned yet, it was definitely worth a go.  Only 3 other anglers were fishing, so we headed for The Gap swim again.  I very nearly fished the swim next door called The Stumps, but Ian had already had a 30+ and the carp were clearly in front of this swim.  I baited up with 10 spombs split over two rods all in the same area.  I fished a Ronnie rig on each with a Catalyst wafter on one and a pop up on the other with a small bag was filled with 12mm Smokey and Catalyst with Betafin / Catalyst pellet all soaked in Catalyst Food dip.  We will see how the first night pans out.
Another quiet night on the lake for me.  Ian managed a nice twenty just after 10 pm but since then the rods have been silent.  There were no fish crashing that I heard last night and with the change in the weather, I feel they will be looking at spawning soon and maybe I'm not quite in the right spot.  So I plan to get the Deeper out later and see if I can find something more favourable.  The fish are clearly in the weed and that's what I need to find.  I did eventually find a suitable spot and baited up with a few small spombs.  As the day progressed, it got hotter, which I will not complain about, but it was nice when the sun falls behind the trees.
Just after 8 pm, Ian landed his third carp of the trip, a nice 29lb 6oz Common.
Nice one Ian
Once the sun had disappeared behind the clouds, the fish started to show more and my confidence was back up.  There was a point in the day where I very nearly moved, but before I had any time to think about it too much, it was already occupied.  Let's hope tonight brings me better fortune.
Surprising we had no action at all -with fish showing as night fell, it was a complete surprise and not even a 6am belter for Ian (like the previous mornings) and with a nice overcast morning, you would've thought it would have kicked off.
Oh well time to head home, its been a great weekend and always nice seeing Ian catch a few; 20, 33, 29.  He was well happy and all on Sf Catalyst boilies as well, they certainly love that bait, in the right spot of course.
Until next time
Richard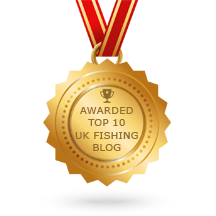 Please subscribe to my Video Diary
Consultant For
Sponsored By