I have the chance of another weekend, just as the school Easter break starts and my Dad is down to help look after the girls.  This is so I can carry on gardening and the kids don't have to go to a holiday club.  I was on my way once the wife was home Friday night.
When I drove around the first lake to the Tower car park, I was amazed to find about 10 anglers on that lake.  I was starting to panic a bit, so I drove on to the next car park to find only 2 cars on there, phew.  I headed off to find the location of the owners of the cars, one was doing the weekend and the other was just packing up which gave me the choice of the middle lake or the top lake.
The top lake is always my first choice if I can get a swim.  I was in two minds as to fish the same swim as my last trip, go into another one or even go to the swim I fished last weekend as no-one was on there.
After looking and waiting on the long point between the middle and bottom lakes.  It meant I could see both lakes and any signs of fish.  The one issue was, I was certain I only had my large spomb, as I had carried the other one about for so long without using it, I had taken it off my car bag.  This is a bag which has a lot of kit I may need but don't necessarily need it in my swim.  This is the beauty of fishing a safe place off the beaten track.
So it's single hook baits for me this weekend, as clearly the carp are here and any overactivity could push them out of the area.
It's starting to come a bit of a habit, another blank night has passed by.  I just have to stick with it and have faith that I am getting closer, things will come together very soon and I just need to stick to what I know best.  I shouldn't start changing things around and panic, as this tends to result in you continue to blank.  You change too much all at the same time, it's best just to alter one thing at a time, as you will never know which factor has caused or affected your results.
Once 11 am passed, it was time to get thinking about where to put the rods tonight or not move them at all.
I decided to move the right-hand rod a lot closer to the channel which runs between the middle lake and the bottom lake.  This was one of the areas I had seen fish in when I arrived yesterday.  Not sure if I will leave it there at night yet.  Hopefully, it will catch a carp and see how it behaves.  The left-hand rod will be moved slightly right, as I have found a harder bottom to fish.
I just about managed to get some bait in the area with my large spomb (that was fun), maybe its time to have some casting tuition.
All was sorted out by 1 pm, so let's hope that the carp move back into the area, as they where there last night when I arrived and we can pick one up.
Last night was action free and with an early pack up, I was off by 8am and heading home.
Until next time
Richard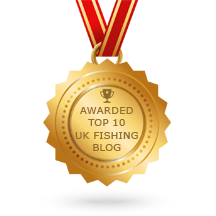 Please subscribe to my Video Diary
Consultant For
Sponsored By