Now that the clocks have changed, it's full steam ahead on the Airfield Lake.  They spawn in early May, would you believe?  But yes they do.  It's because it's so shallow in the main lake and it warms up very fast.  It's hard going at the best of times but after they have spawned they spread out more.
With a definite plan already formulated, there is a definite pattern to this lake – well to a point anyway.
I pulled into the car park just after 1830 and was very happy to see that there was only one car in the car park.  I knew where he would be, so I loaded the barrow and headed off for a long hard walk, this certainly takes it out of you but effort = reward.
Having fished this swim a number of times over the years, it was a very straight forward set up.  I was fishing 1 rod on the back of the bar and the other over the top.  I had spombed out about 8 loads of a mixture of Smokey & Catalyst 12mm boilies.  I was fishing a size 8 turning point hook ronnie rig style using stiff finskin and a 3oz zipp lead from monster leads.  With a pink pepper squid & a natural Catalyst wafter on the other.
Let's hope tonight bring me some better luck.
Other than the odd liner in the night, that was it.  I had a few hours in the rain before I needed to pack up and am hoping it will have eased off some what by then.
I'm more and more convinced that the carp are happy feeding on the hatches.  Until that dies down a bit and they discover boilies again, it will always be hard going at the start on here.
It's certainly looking like another Spring blank is coming my way.  It's sort of to be expected but it still surprises you every time, especially when you feel it's the right conditions.
Until next time
Richard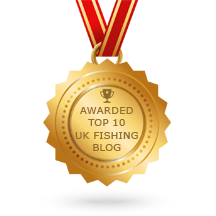 Please subscribe to my Video Diary
Consultant For
Sponsored By