The weather has completely thrown me this trip!  I spent most of yesterday afternoon sorting my floater kit out.  Only to wake up with a clear blue sky, thinking this is perfect.  I then spotted a grey front moving down from the North and after checking on the weather apps again, oh joy it had changed.
When I arrived at the lake, the temperature had dropped to 7 degrees and it was 9am, it was probably warmer a 7am.
I was not 100% sure where to fish, but right on cue, a fish rolled on the bay area.  That was as good a place to start as any.
I picked a slightly different spot to set my rods up in and I also had my chair set up away from the rods.  It was also angled looking down the main body of the lake if I spotted any fish showing I would be on my way.
Since the last trip I have been doing some thinking and I need to step away from the mindset I have for my other lakes.  These have only been stocked recently and have been reared on pellets in a fish farm.
This is a real shame, I was looking forward to using some bread and one of my viewer's had suggested Classic Corn.  I have tried casters in a bag a couple of times, but very it was expensive.
I have moved over to yellow baits today in the Frank Warwick range, a corn pop up and a pineapple pop up.  I think I need to ascertain their preferred colours.
It was not until the afternoon that I finally started to spot the odd carp in the upper levels amongst the weed.  They were clearly not interested in floaters yet, as I had put a few out about 1130, which are still about, but I think its worth a go with some bread.
They are different, not interested in floaters or bottom baits  They are much more happy sunning themselves, it finally made an appearance and definitely warmed up a lot.
I'm very much enjoying this new adventure, as it has revitalized my thought process regarding fishing and gets you thinking more about other waters I fish.
No joy today, but I have decided to go back here tonight, instead of my other water.  Once the clocks change, I will switch over more.
Until next time.
Richard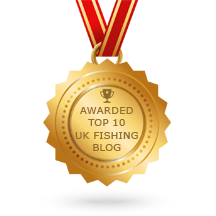 Please subscribe to my Video Diary
Consultant For
Sponsored By