This year I fitted in a day off each week (varying from Tuesday to Wednesday) to allow myself a day's fishing on a regular basis.  This will be spent on the Estate Lake until the rivers open up again and we will see where we go from there.
After walking around here yesterday, watching a good few carp who were spread well over the whole lake.  They were predominately in this area again, I put most of my bucket of pellets & boilies in this area, in the hope to hold the fish until morning.  I'm starting to feel they love this area in Spring, as it has the sunlight and avoids the through current from the stream to the outlet.
I have scattered a few 12mm Smokey and Catalyst boilies over where my bags have been placed.
And I'm using a mixture of catalyst pellets and crushed hemp soaked in catalyst particle syrup in each bags, which with an Evo maggot cluster boosted with Catalyst.  On the other, I have two Go2 10mm Wafters white choc and a Natural Cat wafter, Ronnie Rig style with a 2oz Zipp lead, just in case I feel the need to recast without a bag.  There will be less disturbance and less likely to spook other carp in the area.
As you know, I have talked about before about observation being a key factor, and after a couple of hours, I thought it was time to check out what was going on.  There where clearly carp in the swim and the odd liner had confirmed this.  I carefully climbed a little way up a tree to give myself a better view and found after watching (for the best part of an hour), the carp were on the top, despite the very overcast day and light drizzle.  Unfortunately, coming here light in tackle it was not possible to change over to floater gear.  First job on the list when I get home I feel.  I could only seat on my chair and hope one of them fancied a feed.  By the time 1 o'clock arrived and there was only an hour left to go, it looked pretty inevitable a blank was coming my way.  By now there were a few more fish up and about.
But most importantly fishing is about learning and moving forward, which is another part of gaining knowledge about the lake.
I certainly need to do a night at some point, as they may well feed more at night and the floaters will be packed ready for my next session.
Until next time
Richard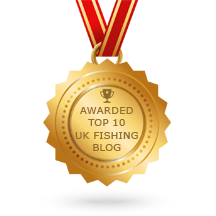 Please subscribe to my Video Diary
Consultant For
Sponsored By