I can't quite believe that it's taken me this long to get well enough to go night fishing. Anyone who has had this virus will understand.  It's a pretty bad one and it is by no means gone away yet.  The previous night's fishing was the 22nd Feb which was at the end of my week's trip out.  I have done the odd day trip, I just had to get out!  It's been 3 weeks but I was targeting this night, as its the first full night that the Airfield lake is open.
I arrived just after 1230 and proceeded to have a long walkabout (this took up a couple of hours), but well spent (as always).  I had no particular interest in any areas on the top lake.  Mainly because there where already two other anglers on there and a third would put some more pressure on the lake.  What is the point in that, when there are another 40 acres free?  There was another guy on the spit between the big lake and the middle one.  After looking in the windiest part of the lake, I found a couple of topping carp and this area is known for holding carp.  It can be tricky to catch them as they just love the tree line and its certainly not the area to fish at night.
My tactics are as follows; small bags over pellets, over a mixture of crushed hemp and pellets.  I would have been introducing a mixture or 12mm Smokey and Catalyst boilies, but they are safe at home in the freezer.  Doh!  I wasn't 100% sure I was going to use them anyway.  Well, I'm not now!
I'm playing around with the Evo maggot cluster and other parts of their range.  They are very natural in looks and touch.  I think they are going to be very productive here.  I have soaked mine in Catalyst boost spray over the past few months to give them that extra boost.
The night and day past with no action and only a couple of carp spotted.  The next day was a pretty wet and windy day, it was spent mostly in the bivvy.  I was really sure I would get a take on the left-hand rod during the day.
I had rebaited both rods at just after 6am in the hope fresh baits would do the trick.
I found a different spot to fish on my left-hand rod for the last night.  I topped up the swim with more crushed hemp and pellets as the old ones would have broken down and been mopped up by small fry.
I settled down to a very wet and windy night ahead and discovered I would be eating my meatballs, sauce and pasta with my swiss army knife!  I had also forgotten my cutlery, survived without cutting my tongue off.
I awoke to a clear blue sky and sunshine – what a difference a day can make!  It's a shame I need to be home early, it would be nice to see the lake with some sun on it.  I'm not back here for two weeks, the nights still need to draw out a bit.  This will give me a chance to play on my little Estate lake.  Unfortunately, the buzzers were silent overnight, there's always next time.
Until next time
Richard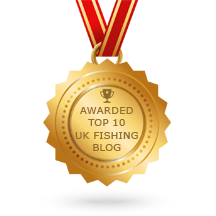 Please subscribe to my Video Diary
Consultant For
Sponsored By