After the weekend's bad luck (or poor choice of a swim).  I am thinking its more about the weather and when the fish where there.  I was unfortunate with the rain, which clearly put them off.
Armed with the information from the weekend, I've set myself up for a few hours in what was the most productive area.  Would be silly not to!
I'm also only using single bright wafters from the Frank Warwick range which Spotted Fin do.  I've picked Miracle Berry and Masala, which have worked well for me before.  Both rods are along the righthand treeline.
There is a gap into the sanctuary area and some very nice overhangs to place your baits. I am hoping that the carp with be moving about, there is a lot more sunshine about today and is forecast to stay like this for some time.  This may start to bring on Spring.
My first take happened just before noon and to the Miracle Berry rod.  I had a hard fight to maintain the pressure on, to keep the fish from finding any snags – it's quite deep water.  If they can gain a bit, they can find the snags and with the wind at the weekend I was hoping for no new ones!  The fight was soon under control and I could play the fish normally and slid it nicely into the Nsr ( Net, Sling, Retainer).  I left the fish happily in there knowing it would come to no harm.  I sorted out my camera, scales and lifting bar, find them much easier at my age!
Very happy with that and just 1oz over the 19lb mark.  With 2 hrs left on the clock, I soon had the rod back out on the spot again.
With my kit half packed away, the same rod ripped off again and another hard fight was underway, but not for long.  The fish was under my control and then safely in the net.
Another fish banked on the miracle berry wafters.
Very happy with that and my first twenty of 2019
There was no time left, it was just before 2pm when the take happened and I need to be back home for the school run.
Until next time
Richard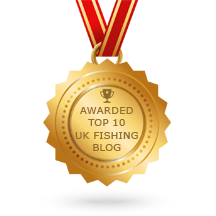 Please subscribe to my Video Diary
Consultant For
Sponsored By