I am out after the carp again this weekend (not the best conditions), the pressure is low and you can't always pick when you can get out.  I'm not keen on quick nights anymore, think its an age thing.  I'm sure if the conditions were very favorable, I would be out like a shot.
I did manage to arrive just on dusk for a quick look about – a fellow Syndicate member had messaged me about the number of anglers and the swims taken.  This was a mega help – thanks Woody.
On the drive down, I put some thought into the weather conditions and where the fish had been seen recently.  I picked an area to head for, as there clearly was not enough time to look everywhere.  I had a choice if 7 swims which were perfect and my choice was soon made up.
I set up the Deeper, marker and my 2 carp rods as I like to get the deeper out there.  With a nice southerly wind, it drifted across the swim nicely and I then flicked the maker out as a point of reference.  I felt the lake bed until I found what I was looking for, then reeled down to the float and clipped up.  When I am setting up in the dark, I like to only fish one spot as its hard work baiting up, casting accurately, spomb out bait and come the next day, if I feel there is another spot in the swim I will then bait that up for the second night.  I think it is best this way otherwise there will be too much of a spread of bait.
The rain arrived at just before 9pm and its been here all night.  It will be here most of the day, which is a bit of a shame but it will give me a chance to sort through the tackle box, think, play with a few rigs and refine things a bit.
No joy in the night and this morning so far will have to get the Deeper out at some point and see if there's another interesting spot to fish and top up the swim with some more ground bait & chopped Smokey Jack boilies.

The rain today just continued all day long and I was pretty much bivvy bound until later afternoon.  Around noon time, I sorted out the rods and stuck a few more ground bait balls out.
There was nearly a glimmer of sunshine just be dusk after the rain had stopped.
Which was very nice to see.  It gave me a bit of an opportunity to stretch my legs, get some tea on and settle down for the night.  This was broken by a bream on the righthand rod just before 11pm.  That was the only action of the night and I was only disturbed by the geese just before 8am doing their morning honking routine.
The weather conditions were a lot better than I expected.  I was pretty confident over the session and even had a couple of fish roll over the area, these were clearly carp but unfortunately, the bream picked up the bait.
I have just under 2 hrs before pack up time and as we all know it only takes a moment in time to change the session from a blank into a trip of a lifetime.  This is why we love the game so much.
Until next time
Richard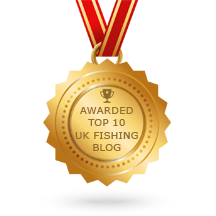 Please subscribe to my Video Diary
Consultant For
Sponsored By