I was not sure if I would get out again before Christmas or even into the New Year.  My dad had been down for 10 days, as it was this time last year when my mum passed away. Also with the weather being mild and settled, I was trying my best to fit in the last of my gardening jobs for this year.  The build-up for Christmas was in full swing and the kids had now broken up for school.
My wife kindly agreed that I could go as it was nearly two weeks ago I was out feeder fishing for the day and I was getting twitchy!  With Christmas only days away, it would be another week before I could go out.
We had had a lot of rain, the river was in flood and the otters had been spotted on the lake.  Unfortunately, no fence for this syndicate – another story for another day.
This would not help things and with the water also up in the lake, the temperature of the water would surely be down.  With these conditions, I just had to be on the back.
Swim choice was going to be a hard one.  The bank where the wind would be pushing hard into was very close to where the otters would be.  At this time of year, they tend to like the island and the backwaters area of the lake, which is also out of bounds.  Previous years, the carp had shown up at the other end of the lake which is at the back of the wind today.  It was a more open water area and the downside is there where no real features to fish to.  Last winter, I had spent a lot of nights in a swim that had a great view if this area.  Even at night, as there was a farm with lights on which helped to create a reflection on the water.  You could clearly see fish topping in the night.  I just can't find an area that produces pick up regularly enough to give me confidence in this area.  I know they are there, I just need to keep plugging away and it will come together soon.
There is one spot in the swim I picked and that was one with a nice drop of in, this has produced a couple of fish over the year but I just can't find another spot.  Maybe this weekend will be the one?
I had frozen my leftover feeder mix from the other week, so I added some chopped up boilies and whole ones to the mix.  For something completely different, half a bag of sweetcorn and then I Spombed out this into that area.  I knew from my records how many wraps were needed and for good measure, I put a PVA bag filled with pellets and Liquid attracts out on this rod.  There was also a Black pepper & squid Wafters on, with a couple of Evo fake Maggot Cluster.
The other rod was much the same but cast not too far out at the bottom of the margin shelf.  I would be looking into where to put that rod first thing tomorrow morning with my Deeper.
The night past with a sign of Mr Carp and it was time to get my thinking cap on.  If I was going to catch a carp this weekend, the sun was out (which I did not expect) and the wind was a lot lighter now.  The pressure had gone up to 1019Mb which I can live with.  I must say, after all the rain this week, it was certainly nice to see the sun shining one more.
After spending an hour with the Deeper and the marker float, I was happy with my original spot.  I topped up the swim with the last of my feeder mix.
As most of it would be gone by now, as the mix was mostly micro peace and would have broken down very quickly and left only the corn and a few whole boilies, when people say don't bait up much in the winter mouths it must be confusing to beginners, as this is generally the cast with boilies, however micro pellets and ground bait with soon get munched up by small fry, this also applies to microParticle, something to write about in the new year I feel.
With the baits were they where I was feeling pretty confident and the change of a pickup.  This was until the rain arrived, sometime in the early hours and continue until just after 8am.  I have found out this lake I don't catch when it's raining!  I do on other lakes and got soaked in the process of netting fish.  Maybe, it's too much wishing not to get a take in the past that's finally come to fruition!  Lol
Its nearly time to be off, the last brew is on and its time for some Christmas fun.  Not sure if this blog will be live by then – so I hope you all had a go one and I will see you all in the New Year (unless I can fit another trip in).
Until next time
Richard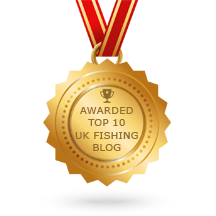 Please subscribe to my Video Diary
Carp Fishing Tackle on Ebay