Below are some more fishing ramblings and an insight into my passion.
We've all been there, and have had to adjust our fishing style to combat the issues that come with being a weekend angler or 1 night a week person.
I would class the everyday angler as someone who has a nine to five job, a family and can only spend one night a week out on the bank (if they're lucky) and has a tight budget for fishing. They have a broad overview of all the everyday components that go together to enjoy your fishing.
I've been there and come out on the other side, and that's what I would like to cover in this article.
It's all fine when you're in your twenties, it can be a bit tricky at times with girlfriends, work and money. It's getting into that rhythm of life/work balance and doing a couple of nights (or more) each week on the bank in the mix.
When I first started working, it was for a shipping company; it was shift work, including weekends which was problematic, but I managed to get out most weekends and a few weekly sessions. As time moved on I was getting quite addicted to work and the shipping way of life, I moved up in the industry over the years and it certainly was hard work keeping the fishing/work balance at times and I really needed that drive to get me on the bank for a couple of nights a week for a quick overnighter. It meant arriving down the lake at 6 or 7 pm, packing up at a similar time, and going straight back to work. I've spent many years doing this and have had great success. It can be hard work over the winter months and you can find yourself being very selfish over the years in the name of carp fishing.
I remember one of my bosses saying after he realized that I fished nights during the week. He asked "whether that would affect my work",
my reply was, "has it done yet?"
He said, "no and why"
"Simply because I've been doing it for the past 10 years since I started working here!"
"Oh" was his reply.
My plan was to retire at 45 years old, the same age my dad did, it was clearly the best thing he ever did, and in all honesty, it was a very unrealistic goal.
But, one piece of advance is getting into a routine of going, and this in turn will be the normal routine of life over the years. The family will become part of the relationship you have with fishing and the way of life that goes with this. Obsession can be another word associated with fishing, I'm feeling that I'm just driven to go every week, regardless.
You have to deal with other anglers, which can be problematic at times in my experience. I've written about this subject a lot, as this can cause you a lot of pain, and nearly stopped me fishing some years back.
Weather can play a part as well (you can only go when you can); I'd fish certain days of the week regardless of the weather, the same goes with moon phases and holidays. Over the years, I've blanked many times due to this.
I am very lucky these days as I'm semi-retired after spending 34 years in the shipping industry, working 12 hours a day, on-call 24/7 & 365 days a year. I feel I probably worked enough hours in those 34 years to semi-retire. I also came to realize that I can't fish 7 days a week and much prefer to do 2 or 3 nights these days, with the odd day fishing thrown into the mix.
I came to the conclusion that working part-time gardening was the perfect combination. I prefer fishing in the winter, there are fewer anglers on the bank. I can fish more over the winter, work more in the summer months and fish a little bit less. I don't particularly like temperatures being over 25 degrees.
I realized at some point, that you need to go back to the side of fishing that first got you out onto the bank and focus on that aspect, rather than the obsessive side of fishing. Today, fishing is definitely my lifestyle and a way of life for me. My wife and family understand to some degree, I actually need to be outside more than inside.
My point is that you have to accept your fishing circumstances as they are and make the most of your fishing, without thing of others or comparing catch results otherwise you will get completely wrapped up in other people's results and not focus on yourself. Enjoy the moment and get what you need from it, maybe a social with a friend, unwind after a hard we at work, or even focus on catching this time.
Until my next ramblings
Richard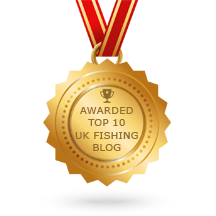 Use my code for 10% discount
The discount code applies to the entire order when purchasing the Deeper Sonars PRO, PRO+, PRO+ 2, CHIRP, CHIRP+, CHIRP 2, CHIRP+ 2. The code is valid in all countries.
CODE = DEEPER-H-9OCSF
Get 30% off WW5KFTK @checkout