I'm out for a single night social with Ian, I have a few family things on this weekend. All I've done is pitch up in the nearest swim that I feel will give me a chance at a fish.
Which happens to be a swim well-known to me, as you may have noticed.
I've spombed out a small amount of bait and put on a couple of bottom bait, in conjunction with solid PVA bags filled with Catalyst pellets soaked in hemp oil and that's it, folks.
It's going to be a simple one this trip as we need to discuss our winter plans.
Just testing out my senor light, which I've been using for a couple of months – I will sort out a review and link asap.
Just before 2345, the left-hand rod was screaming out, I was in a deep sleep and was shocked into life. I grabbed the rod and walked backward slowly, with a very unhappy head-shaking carp at the other end of it! At times it was running towards me, not too dissimilar to the carp I lost last week, it even headed left off down towards the same trees. They generally do that anyway in this swim. It was very soon in the margins and I was playing it out under the rod tip. It finally rolled on the surface, which is when I discovered it was a lot bigger than it was behavior was telling me!
I was very pleased with this carp and also on the first night, which can be problematic on this lake. It's as if the carp need to settle into you being on the bank sometimes.
With another bag done, the rod was back on the pod and I was soon in the sleeping bag again. The nights are cooling down a lot.
Just as I was about to get back in the sack the same rod was away again! The fight was much the same as before up until the margins and it just wouldn't give up. It ran back out into the open water at least 3 times and me praying that it wouldn't find something to bump the hook off on. It finally calmed down and I was able to get it.
Look at the tail! It's a fighting machine and not willing to give up easily.
With another bag done, I was stunned by my results and extremely happy.
The right-hand rod was finally away just after 0730, the sun was on the lake and flat calm. You could see the line pulling through the water towards the carp, as it kited right as hard as it could to gain ground, it was heading towards shallow waters and those nasty boulders. It found one and was locked solid. My first approach is to put the rod back on the pod and let a load of line out and hopefully, at some point, the fish would start moving again, which is what it did after about 5 minutes. I was starting to think that I may have to wade down the margins along to the other swim and try and pull from another angle, so glad I didn't need to do that.
The carp was not kiting to the left and towards the overhanging trees to my left, luckily, it had gone under my left rod and I could get down lower and pump the fish gently along the margins towards me. This is one of the reasons I have my rod tips high up,
Once the carp was under the rod tip, it was still not giving up the fight and made a few attempts out into open water. It eventually gave up and slipped over the cord.
It had been a bit fresh in the night, I was quite chilly a couple of times, which surprised me, but my sleeping bag is broken, I have a new one on order and I can't wait for it to arrive now.
The sun is creeping my way and I no doubt will be saying it's too hot later.
It's been a fantastic night, I've not had a result like that for some time. I must be doing something right and there's a chance of another one before I go home at lunchtime. The conditions are completely on my side, however, the beauty of fishing is you just never know.
I tidied up and started to pack away at 10am, I was all sorted by 11am, and there were no more fish to be had for me. I'm hoping that Ian lands a couple over the next few nights that he's here for.
Hometime,
Until next time
Richard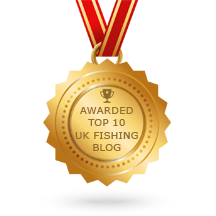 Use my code for 10% discount
The discount code applies to the entire order when purchasing the Deeper Sonars PRO, PRO+, PRO+ 2, CHIRP, CHIRP+, CHIRP 2, CHIRP+ 2. The code is valid in all countries.
CODE = DEEPER-H-9OCSF
Get 30% off WW5KFTK @checkout