The wife was traveling again this week and so I couldn't get down the lake until Friday evening.
I arrived just be 1730 and ended up in the same swim as last week. The wind had been pushing down that end for the past 24 hours and looked absolutely perfect. The water was nicely colored up, it was due to continue like this over the coming 24 hours, it just felt the perfect area again.
I had repaired the Fox reflex bivvy that I had broken last week and was using it.
There was a day angler on the big grassy swim to my left but he wasn't fishing anywhere near me, as that would be 31 wraps out and across the front of this swim. I generally cast out more to the right side of this swim to avoid any inconvenience to other anglers. I'd popped by, when I arrived, for a chat with him first to see where he was casting and if necessary I would have gone in my hidden swim amongst the trees, in order to give him more distance between us. He was heading home at 7 pm and was happy for me to set up but I wouldn't spomb out until after he had gone home (out of curtsey).
I set up home first and got the rods ready. Only find that my buzzers were still in my day bucket from my Monday rainy trip out, $#!+. What's going on at the moment? For the second week in a row, I was heading home again. I called home, the wife had just finished cooking tea and was able to meet me in a service station car park halfway, with the day bucket. A big thank you to my wife for knowing what my day bucket is and driving to give this to me and also a big thank you to the day angler who kept an eye on my stuff so I didn't need to pack up for the second week in a row.
I arrived back at 1845, finished setting up, spombed out the contents of my bucket of bait and got both out onto the spot.
The first night was uneventful, and probably for the best after yesterday evening.
The weather is still pretty favorable and a good chance of a bite today.
Around 11 am I spotted a carp show and as I had a pot of Spotted Fin's new Pink Pepper Squid active gel in my bag, I felt it was a good time to use it.
I was in the middle of doing my vlog and the right-hand rod was away, it had only been out there for about 15 – 20 minutes! I'm not 100 sure, as I thought it was the middle of the afternoon and I've just found out its midday as I'm writing this. I often lose track of time fishing.
The fight was incredible, it just kept taking line every time I gained any ground, but it slowly got closer and closer. I still hadn't seen the fish, even though it had swam by me a few times, I was up to my knees in the lake. I had also found out my waders had a small hole! Another job on the list of things to fix.
The carp was still holding ground and trying to get to one of the humps that touched the surface nearly, in an attempt to bump the hook off. I slowly walked back out of the water and back up the bank to hold the line as high in the water as possible and avoid a hook pull.
It was finally getting tiring and eventually rolled on the surface. I was amazed to find out it was another mirror. I must hold my thoughts and concentrate on getting it in the Nsr50 first, before celebrating my success.
I was over the moon with my second mirror from here, they like rocking horse poo and I normally get a couple of ugly ones that are about.
I dipped another hook bait in the active gel and got the rod back on the spot, it was around 1 pm now. I also took the opportunity to stick a few 20 mm Classic Corn Boilies out, spread over the area.
The afternoon was spent watching the lake and Netflix. The wind was picking up nicely in the late afternoon and I was thinking there could be a good chance of a bite before the evening lull. It's going to be about 9 degrees tonight, which is also looking promising for a bite tonight. I need to be off early tomorrow, as I've family things on, and then it's half-term and our normal week in Wales camping.
Hopefully, the weather will be favorable again this year.
What a gorgeous evening, with the wind pushing in my face. I've packed away some of my kit onto the barrow for a quick getaway by 9 am tomorrow morning. Fingers crossed for another carp tonight.
The night was quiet until I was woken just after dawn time to find the carp had started spawning. As I need to be gone early it was a bit of a bonus, I was home by 8 am.
I will be back again soon. Bring on the summer. I may well switch between the Meadow and Airfield Lake's over this period.
Until next time
Richard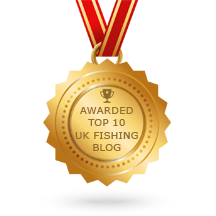 Use my code for 10% discount
The discount code applies to the entire order when purchasing the Deeper Sonars PRO, PRO+, PRO+ 2, CHIRP, CHIRP+, CHIRP 2, CHIRP+ 2. The code is valid in all countries.
CODE = DEEPER-H-9OCSF