Monday has come around quickly. This is probably because I fished on Friday and baited up my spots. Hopefully it will pay dividends today.
There is one other angler fishing, he is away from my area and tucked away in a peaceful corner of the lake. There's a good wind blowing up towards the island and along the far margins. I walked around the lake, just checking a few other spots out and trickling a few 12mm Classic Corn boilies on the way to my swim. I also topped-up in my chosen spots, you mustn't overdo it, just a few handfuls will do the job. Just after 0915, the left rod was away, and as I was fishing locked up with a 6in drop on the bobbin, it crashed up to the top and the rod tip pulled round. As I'd angled my rods more towards my bank, I was leaving the line in the clip and playing the fish on the stretch of the line as they ran up or down the far margins. On the take, the carp headed down the lake, but soon kited back up towards the island, on some sort of mission. I've always been amazed at how hard these carp fight in here, similar to the Airfield lake carp. Once it was under the rod tip, I just needed to play it out as much as possible as they can be a bit of a handful on the bank.
A lovely-looking mirror again today, happy with that. With the bait back out, it was time to get stuck into my porridge and yogurt that I bring down in a pot to eat at the lake. The best place for any breakfast.
I had another take, just after 10, but after playing the carp halfway across the lake, the hook popped out. After checking the hook, it was absolutely needle-sharp, just one of those things that happen. 2 takes within an hour and a bit of arriving was a good start, let's hope they don't fade away.
My friend was demanding food as always.
About 30 minutes after losing the carp, the same rod was away again, unfortunately, this felt like a small fish than the one I lost, but I'm happy.
Any carp in these trying times is a bonus, as far as I'm concerned.
Just after 1130, that same rod was away and this was definitely a much bigger carp. After the early hook pull, I was taking it steady. I had a moment of hanging on and desperately trying to turn the carp, it was definitely on a mission to find something to get its head under. I was very mindful of the fact the pads were clearly starting to grow – you couldn't see them, but the odd time reeling in you would catch one. What I was unaware of was something just to my left about 2ft out that the carp found and was stuck fast. I slackened off the line, put the rod in the rests and had to sit down and wait until the line trickled off again. This was only a couple of minutes, in the past I've waited hours for this to happen. I was unaware of any pads there, but it was over a year ago I had seen the lake and memories fade in time. The carp was moving and I had to negotiate a bush just to apply upward pressure to get it free. Once that happened, it was off like a rocket down the left margins. I needed to get back into my swim and also bring the carp back over the same obstacle. I tried to convince the fish that open water would be its best option, but nope, it had its mind set on the margin still and that snag. I don't believe are lily pads and I most remember that in future. It did its best to get back in there and I certainly did have to apply lots off pressure to keep it up in the water. Once it was past that spot, I gave it a bit of line, in the hope I could now control it under the rod tip (despite its obsession with getting back to that underwater obstruction), it was slowly becoming apparent that I was now in control and I slowly gained ground. I slipped the carp into the net.
17lb 1oz Common and what a battle that was! It just goes to show you it's not all about size, sometimes.
After getting the rod back out, it was certainly time for a brew and a sit-down.
I decided that at 1330 I would walk around to the opposite margin spot and top up the swim for the afternoon, as I'd had so much action and on my return to the swim. The wind had picked up and unfortunately I ended up a sticking 2 baits in the trees! I was pretty grumpy after that. I really don't like doing this and I have avoided on here for the past 2 Winters. I really needed to see if there was any line hanging down, etc, I decided that I would move over that side of the afternoon and I was all set up and done by 1400hrs.
Sitting back with a brew watching the rods.
Strange this fishing game. Despite setting up stealthily, lowering my baits down and sitting well back, I didn't get a single bleep all afternoon and it was soon time to head home.
Until next time
Stay safe
Richard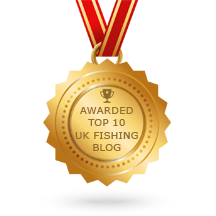 –