With my gardening job cancelled this morning, due to the rain and wind. Once the weather had settled a bit, I headed down the lake and arrived just before noontime. The only people there were only a couple of crazy folks out already braving the conditions this morning.
I'd put some thought into where I needed to fish over the past weeks, as I was really after the two mid 20s that were in here. I was also still stuck with the travel restrictions for a few more weeks, so it's worth focusing on an area. I felt I'd found two areas which are perfect to fish from one swim or another. If one was taken and I could bait them both without really giving the game away to much. As it's a club lake, there's always a good chance someone will stumble across these areas. In some ways this is ok, as they will no doubt be putting bait in. As I only fish Mondays and Tuesdays, my Spring gardening jobs are picking up, people putting in extra bait will help. Also Covid restrictions stop you from walking around the lake unless you are fishing, so I can only bait up on those two days.
Fresh pop ups where tied on and flicked out onto the spots. I'd walked the long way here around the lake, so I could drop a scattering of 8mm Catalyst pellets in the margins over the other side of the lake. I also did the same over the margin spots on my bank and then set up the brolly – just in case those heavy rain storms creeped in again.
Just before 1230, the left hand rod dropped back and I leapt up. I grabbed the rod and quickly reeled in, I walked backwards to the otter fence and made connect with a small Common carp. This is after all that talk about larger fish!
Its better than a blank, like my last trip out!
I touched up the hook, flicked it back out there and quickly sorted out a brew.
Mid afternoon and the heavens opened for a good 45 minutes with some extremely strong winds for good measure. This caused a few branches to fail into the lake and drift about, until it went all flat calm. A rainbow was across the sky and my Robin friend came to warm up.
I did received another drop back, which didn't connect to anything. The left rod has been dead all afternoon, all the action had been on the far rod again. I really don't fancy fishing the swim unless I'm forced to by too many anglers about. I feel that once I receive a take (when sitting in the swim), it'll push all the other fish out. There's really only one way to find out and as this margin rod hasn't produced a bite on my last 3 trips, I may well consider it next time around.
I was really feeling confident of another bite, but it was clearly not going to happen. At 5pm I was the only one left on the lake, it was a good time to reel in and get the rest of my bait out for the coming weeks fishing.
Until next time
Stay safe
Richard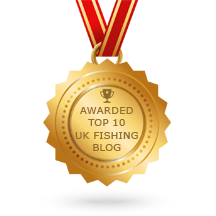 –