Today, the weather conditions are better than I thought they would be. There's a good NE wind blowing, however, the sun was out and if I could get a swim that was facing the sun, I could set my brolly up and shelter from the wind. The NE wind blows directly down the lake, so there's no real best areas to pitch up, but I felt the sunny bank would be more favourable and if possible the same swim as my last trip as there must be something that they love about that margin!
I arrived at just after 9 am and I was the only car in the car park, which was a shock after the past couple of trips and I wasn't now really sure of the best plan of action. So, I loaded the barrow and had a slow walkabout and left it in a few swims, but I was still being drawn back to that swim which had produced the better carp for me recently.
The margins were looking perfect , the sun beating down on them. It was definitely worth another go. I'm going to have to sit on my hands a bit, the bites didn't arrive until noontime and there's a chance that the hook bait was in the wrong spot for the morning. After I moved it, the takes happened. The left rod is going to be more of a roving rod today, I'm sure there are carp about in open water as I had a few liners, I just couldn't get a pickup, even after moving the rod. This time, I'll be recasting every few hours with a string on with half cut up boilies to release some attraction.
I will also be scattering some 8mm Catalyst pellets and 12mm Catalyst boilies, in the hope of attracting any passing carp. They may just be simply moving up or down the lake. I'd a heavy liner on the margin rod just after 1015, which resulted in me striking and getting no contact with a fish. I flicked the rod back out after checking the hook, all good there.
I recast the roving rod at just after 1pm (as no action had materialized) across to the far margins as the sun was over there. From mid-morning onwards, the sun had gone and the clouds had moved in, it felt like a different day. This would account for the lack of action and not seeing any signs of carp. When the sun came out again just after 3pm, I felt like I could be in with a chance again but there is a fair chance I'm heading for a blank. I'm not going to complain about after my last two trips out.
With the sun going down and the temperature dropped rapidly it was time to get home.
Until next time
Stay safe
Richard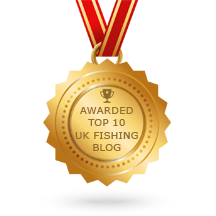 –