With the weather conditions still very mild, it had to be worth another go on the School Lake again. There was also a chance of sunshine later on, this would be nice and could certainly get the carp moving more.

I arrived just before 9am, I've never felt the need for an early start here. The carp switch on to feed mid morning onwards and if you're lucky, there's a good chance that one or two will stick their heads out and will give away their location. You can simply head to that area straight away without any bother.




This time I've gone for the island as I'm hoping that when the sun arrives, it will bring them up to the margins and into the shadows around the island. I've placed my rods at the bottom of the shelf to start with and will swap things about as the day goes on. I've catapulted the last of the casters, maggots, some 8mm Catalyst pellets and a few Classic Corn boilies just to mix things up. I'm sure they'll be back on the feed, as they never really slow down here.

I was starting to wonder if I was going to get a bite. The sunshine had come out and I had moved one bait up the margin shelf and still no joy. I'd started to think of moving but hadn't spotted any carp and it was probably best I stick with the plan.


Just after noon, the left hand rod was away, with a small bar of gold, which was a start.


I'm happy with that one and hopefully there may be a chance of another one.
It was getting closer to pack up time and the other anglers fishing had moved to the other side of the island. It felt a good option to stick it out, in the hope of them pushing the carp around my side. Unfortunately, this had yet to happen and I was running out of time.
Until next time
Richard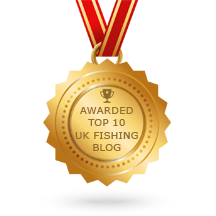 –