This is my first carp trip of 2021. It's been a long time coming. I just didn't feel that safe going in and out of 3 gates down to the School Lake. However, after bumping into one of the club bailiff's the other week who said that there had only been the odd person fishing there, so I thought it was worth a look. I popped down mid afternoon yesterday (on a very lovely sunny day) to find no one was on the lake. I was very hopeful that on a wet, cold day it would be the same or just one other person and that was indeed the case. One van with 2 anglers – I was happy. I've been pretty paranoid about the covid over the winter, with the numbers going up, the scary footage coming out of hospital and the need to protect my family. This wasn't doing me or them any good, I had to dig deep and get on the bank.
One other factor which has helped me was the truck had given up the ghost and was giving me a few issues. This had started back in early December and had cost me a few quid trying to sort it out, with a couple of other looming issues, the decision was made to change it. This had its own set of restrictions/complications to contend with. Thankfully for me, I'd test driven a Tourneo Connect just before lockdown 3 and I'm so glad I did, this made things a lot simpler. With the advantage of modern technology and video calls, a deal was done.
The truck is dead, long live the bus!
First impression are pretty good and a test run fishing is always the first job on the list, probably second job really, as I spent most of yesterday morning, playing with the controls etc. With all the seats folded down, I'm able to wheel my barrow and kit into the back of the car for the first time ever. Once I've sorted the best way to do things, this is going to save me a bucket load of time and effort. I arrived just after 9 am and was greeted by a half frozen lake, but this was up the top end where I hadn't planned on heading, as the forecast was rubbish and I didn't fancy a long wet walk today. Sometimes it about being there, with the least amount of effort and leads to a more pleasurable experience, which intern motivates you to get out there once again.
The 2 other lads had set up in a double swim which was in the car park area, so I was able to go to where the ice started, so I could flick my baits across to the far margins, which is where I'd walked around and already baited with some Casters, maggots, crushed boilies and a handful of method ready pellets. I'd done this over an area of about 4 swims which gave me the ability to spend my hook baits about, hopefully no one will turn up and fancy fishing over there. I'm always happy to reel in with no issues as I took the choice to cast there. It's simple fishing etiquette and I wish there was more about on club waters, my syndicate are exemplary and a pleasure to fish, just a shame they are not local to me.
It was around 1115 when the left rod was away and the fish soon found an area dead pads to stick its nose into. But I just slackened the line off and before I could put the rod down, the carp was taking line and I continued to play the carp into the net. It gave a very good account of itself by charging up the margins towards the part of the lake that's still frozen.
First carp of 2021
With the photos done, the fish was quickly back in the water, the rod was back on the same spot and I was very happy with that. There's plenty of time for another one.
As the afternoon progressed the weather started turning bad. I think I had a lucky escape today as the forest was terrible. I'd had a couple of liners which hadn't developed into any thing, but its nice to know there are carp moving about, despite the -4s and snow that we had in the past few days. I was very impressed with my results and hopefully be back soon. I'm going to give it until about 1500 hours and then head home.
Until next time
Stay safe
Richard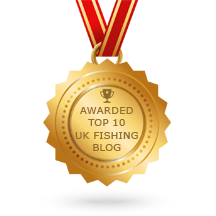 –