With another opportunity to get out on the bank, the wife was able to do the home-schooling and the weather had also improved from constantly raining.
I headed out and after looking at 2 lakes, which had a few too many people on for my liking, I found one that was completely empty, but it would be hard going, I felt.
I decided that it would be a better option to put a float rod as well as my normal one. I baited two spots along the dam wall and put the feeder rod off to my right and had the float just off to my left. I had baited with a mixture of live and dead maggots, a few casters and a small handful of method ready pellets. I was pretty much after anything that came along and picked up my bait!
I was just enjoying being on the bank for a few hours. I may consider going after the carp on the School Lake at some point. However, I'm quite enjoying going back to my roots, despite the hard going at the moment.
I switched from maggot, casters and Go2 8mm dumbells, in the hope something would fancy a nibble. I had a couple of bites on single maggots from tiny fish that my size 18 didn't hook and I retrieved a half sucked maggot, for my efforts.
My Irbis suit was doing its job perfectly.
I was planning on staying until 3pm and head home to help sort out tea and play yet more Minecraft with the kids.
Not bad for a beginner, but it could be time to get back on the bank soon before I build a whole container port!
My trip for this week was soon over, however being outside for those few hours certainly helps the mind.
Until next time
Stay safe
Richard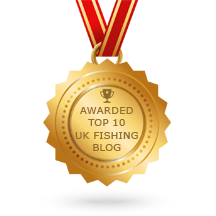 –