Location – Airfield Lake
Hours Fished –  70 hours
After a fantastic week away camping with the family in Wales, I'm back at it again.
Hopefully, after the ridiculous hot weather over the few days, the thunderstorms we've had this afternoon will wake the carp up.
With the water temperature is showing 27.5 degrees on my Deeper Chirp.  I was looking for deeper water this trip and after being away for 3 weekends, I wasn't sure where the fish where going to be.  I'd message a couple of fellow members of the syndicate and they'd given me a good bit of information.  With this information and my intuition, I was heading for one of the islands you can fish off.  Ian (my friend) was joining me this weekend, it had also been sometime since he had fished and was of the same opinion as me.
We couldn't double up on here, but could fish one swim apart.  We could bait up a large deep area of the lake, which hopefully would hold a few carp and also could be their favoured area to feed in.  As there had been thunderstorms forecast, but this was had been like that for the past few days and we were still waiting.  But if we were lucky, it would hopefully bring on the carp's feeding spell, there was a drop in temperature forecast for Friday, fingers crossed.
The swim I picked was an overgrown one, it clearly hadn't been fished this year.  It was the first swim that I ever fished when I joined 5 year's ago.  It was one up from the swim I fished on my last session here.  I also needed to map this part of the lake, as there is a chunk missing from my Lakebook page.  This would give me greater insight into the lake and this particular area.
I got the bivvy up first as for once (this week), the weather man may be right!  Sure enough, as I was using my Deeper, the first rattle off thunder was heard in the distance.   I wasn't going to get to excited as the same thing happened last night at home and that was all.  However, soon after, the rain started.  It was lovely and cooling.  I carried on, baited up with 12mm Catalyst boilies and Maize. My bivvy was a tip, as I had just stuffed the the rest off the kit in there.  As the rain got heavier, I tucked myself inside and sorted it out.  I popped over to Ian's swim and had a glass or two of Guinness, after the thunder went away, I went back and got the rods out.
I was using the same tactics as the last time; solid pva bags with Catalyst pellets soaked in the food dip and a Classic Corn wafter on one rod, a 15mm Catalyst wafter with a 12mm PPS pop up on the other.  Both cast no more than 20 foot apart, into the bait area.
Morning arrived, it was so much cooler after the rain in the night.  I only had 1 bleep, so I was surprised how badly I slept – it must have been excitement for being back on the bank and the anticipation of a bite!
I will spend a bit more time today with the Deeper, as I didn't fancy it yesterday.  There where clearly fish about, I believe Ian had something last night as I heard him casting back out at around 3 am.  The fellow down from me was playing a carp at first light this morning, which is all good news that I'm not to far away, just need to fine tune my spots.
Just before 10 am, the left hand rod was away and I was into my first carp of the session and wading out into the open water to convince the carp not to head to far down the left hand margin and make contact with the overhanging trees.  It all went well and the carp was soon in the net and I was very pleased.
15lb 8oz Common
The perfect start, it was getting closer to 11 am and this was the time I had decided that I would get the Deeper out and investigate more.  I left the other rod out and would recast the other one after I had played about – no point in disturbing carp if they're out there feeding.
I reeled both rods in just after 11.30 and got the Deeper out.  I spent 30 minutes checking about and filling in some gaps on my Lakebook page.
There was no real point in changing the rods from the spots they're in.
I've pretty much covered this area.
The swim was then topped up with more 12mm Catalyst boilies and particles.  It was then back to Ian's swim for a chat and a brew.  After an hour, I headed back to chuck out a couple of bags.  Just before 1830, the right hand rod rattled off with a very upset carp off towards the island.  I tried to slow it down but nope, it was still going.  I felt the line grating on a boulder and tried my best to get the rod up higher, as I was in the water by now, I just had to hold on.  The fish boiled on the surface and the line came free, it was now heading right and towards me.  I needed to reel quickly and gain line, it was clearly off to my right and making for any escape possible.  I was pumping hard to avoid them, my rod tip was well under the water and the tips of the trees where bouncing about.  I held on and I gained ground, finally the fish was in my margins.  It was certainly not over, it made a couple of belting runs for the trees, eventually it was in the Nsr50 and I could breathe again.
16lb 1oz Common
You wouldn't think these fish could fight so hard, but they certainly do give an absolutely brilliant fight.
With another bag out on the spot, I felt it was time for a brew.
Have had a bit of a disaster today.  I had a belter of a take at 0015 and pulled into thin air.  And just now (which is 0450), I had a mega drop back that ran towards the trees to my left, by the time I got the line tight, it lunged and snapped my line or clipped the tree and cut me off.  I hadn't even had the chance to get into the water.  This could've helped – you never know.
With a new rig and bag sorted, I was soon back on the spot.  Dawn was arriving and the Nightjars on the heath by the lake were starting up.
My next take (and finally another carp on the bank), happened just after 0700 and just because it was light, it was all very straight forward.
10 lb – Common
It's always a relief to get one in the net after having things go wrong (size doesn't matter so much).  With another bag out there, it was time for the first brew of the day.
Just after 1400, I rebaited and did the rods for the night.  I was hoping for an early evening bite, but it didn't happen, so I'm now hoping for better results tonight.
I had to wait a long time before the next take.  It finally happened just before 0200 Sunday morning.  I'm glad I've had a few takes and I'm starting to understand their patterns of where they like to run towards certainly snaggy areas.
13lb 9oz Common
Not 100% sure how I would get on with a bigger carp in this particular swim, but hopefully I will discover this sooner rather than later!  I'm glad of the practice and have got the ability to understand more about the swim before I catch a lump.
Another bag was put out and it was time to get my head down.
There was no more action to be had overnight, which was quite a surprise.  The carp were very active.  However, as noise travels at night more (and it was pitch black), i'm not 100% sure where the carp were.  They could easily have been off the island, we will never know.
The rods are there
It was getting closer to pack-up time, but there is always a chance and we never gave up or stop hoping.
I'm very pleased with my success and being my first trip back on the lake, this could so easily have been a blank.  As the carp are pretty nomadic and just have so much water to get away from the anglers, those lumps will have to wait another week.
Until next time
Richard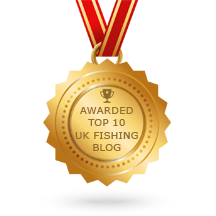 Please subscribe to my Video Diary
Consultant For

Sponsored By

Please follow my Facebook Pages