Location – Airfield Lake
Hours Fished – 49 hours
With a change in the weather, there was a prospect of light rain and strong winds coming from the southwest.  I was feeling particularly confident that this weekend could produce a few carp – if I can get in the right area.
I arrived just after 9 am Friday morning, it was my daughter's birthday the day before and we did our best to make it special for her under current circumstances.
I had a few options in mind, 1 specific area had produced well a few year's back, but then it just faded away and turned into a particularly hard area.  It's been some time since I'd seen anglers there and with the coming weather, it was the perfect combination for this swim.  I'd looked around after dropping a bucket in the swim, but the fish were pretty much everywhere in this part of the lake.  The wind was steadily picking up.  The swim I chose gave me better access to a deeper area of the lake, but the swim came with a lovely underwater snag to the right.  This (over time) has accounted for a few lost carp I'm sure.
I knew from my Deeper lakebook the exact location of the deeper area and flicked the marker rod out looking for the perfect silty area.  I then set about getting plenty of bait out.  I was using a mixture of Maize and 12mm Catalyst boilies.  I would be fishing pva bags over the top filled with Catalyst pellets and I was planning on adding some Catalyst food dip – but that was safely at home, these things happen.  So instead, I added some Tiger Nut paste that was still in the car from my float fishing trip the other day.
My first take happen just after 23.30 and after a hard fight which involved me wading up my left margin in the dark, wet, windy night to avoid the overhanging tree to my right.  I did gain control of the carp and was just getting net in my hands, this was also after avoiding the other rod successfully.  It was as if the fish knew I was stepping out further, it made an almighty lunge towards the tree.  I was delayed by a split second, as I only had one hand on the rod to apply pressure, it gained ground.  I was now holding on with both hands and the rod tip was underwater, the carp was boiling up a foot away from the tree and then the hook pulled.  GUTTED!  It felt like a big fish with plenty of power, how I will never know.  The tales of the one that got away will last and last.
With another pva bag sorted, the bait was back out on the spot, let's hope I get another chance and I'm more fortunate.
The next take happened just after 03.00, this time was the left-hand rod and it was heading to the left.  This is perfect and so much easier to handle.  I still needed to get out in the water with my waders on, but so much more straight forward.
16lb 4oz Airfield Lake Common
It felt nice to get one on the net.  It did make the pain of my earlier take fade away a bit, never goes really, just gets damped down a bit.
I soon had another bag out there and with any luck, the chance of another bite.
The next take ripped off as they do on here, just after 0430.  This was also on the left rod and was a bit more well behaved,  until it went off like a rocket halfway through the fight and towards the right-hand side of the swim, oh and that lovely overhanging tree!  I soon had it under control and heading into the Nsr50.
14lb 8oz Common
Happy with that!  As the light was starting to break through, it was a lot easier getting the bait back out.
The next take was about 0630 and was a very small single figured carp and with the rain doing best to get me wet.  No photo was done and the next bag was on the money.  My head was certainly telling me I needed more shut-eye.
Just after 0800, I the next take and it promptly fell off, like they do here.  This is something to get used to, it's hard but it appears to be a factor of fishing this lake.
The next happened around 1100 and was for only the second time a drop back, which is rare on here.  I reeled like mad to find myself attached to another 10lber, can't complain its a take, and you can never pick which fish picks up your bottom bait.  No photo again, as raining still, these conditions are perfect.
Within half an hour, the very same rod was off but the fish, unfortunately, bumped off a few moments later.  I believe these are the smaller carp – well that's what I tell myself.  I don't think they get the bait in their mouths properly.  It could be a bit of competition feeding going on and they quickly grab the bait.
In the middle of a big down pour, my next take happened, it must have been about 16.00, this fish made it to the net and that will do me.
It was a 10lber, I am getting a bit plagued by these.  Let's hope the bigger fish move on over tonight.  I had baited up the area just before 13.00, to get a take now is pretty hopefully.  I have a few more in daylight hours and the rain is due to stop very soon.
The right-hand rod was away mid-evening and out into open water, it was heading to the left side of the swim, I had the top tip high (as you get a few knocks as they kite up and over a bar).  I held on as normal but what I thought was another hook pull, but the knot had gone between the stiff boom and my semi-stiff hinge which I connect to my Ronnie rig.  It was at this point, I remembered when I put the new rig on last night (after losing the first fish), I ended up using a knot that has let me down on occasions in the past after having a few bites on the rig.  My plan was to change it over at first light, but because of the lack of sleep, I completely forgot, so that one was all down to me.  This is a real shame and brings the lost fish tally to 4.  I'm not overlying happy with but these things happen.  As I've analyzed what happened I can see on two of them it was down to me and the other 2, down to the unfortunate probability that you lose fish on this lake.  Let's hope I can get a few more on the bank over tonight.  It's been odd catching carp throughout the day, something that's not happened for some time, so there is always a positive somewhere to be found.
The next take was on just before 1900hrs and shot off like the rest and as always you are confident of a lump.  It was taking line and heading out into the lake with no signs of stopping, I had to start putting the breaks on, otherwise, I'm not sure when it would have stopped!  I managed to avoid the overhanging tree by walking out into the lake, along the left margins, and applying side strain.  It would pass underneath with no issues, eventually, it made it into the Nsr50.
And it was not that big after all, but certainly gave a good account of itself.
I was pretty wet after the photoshoot and as I was making up the next bag, the heavens opened up and it absolutely bucketed it down for a good 10/15 minutes.
I also took the decision to stop using bags on one rod.  I need to know, was it the combination of the bag, etc?  Would I catch on single hook baits over the same area?  I understand some people will think this strange as I was catching constantly, but you need to know these things and the only way is to test it out.
The twelfth take of the trip happened well after 20.00 and oh! would you believe it, yet another hook pull.  This is getting frustrating now, its a 50/50 chance at the moment that if I get a take I can land the fish, not good.  On a positive note, I can't believe I've had this many takes.  It's like going back 4 years in time and forgetting how hard it's been for the past 2 or 4 years on here.  I had better not complain too much.
With the bait back out and hopefully the possibility of more action overnight, its time to get my head down and get ahead of the game.
Very interesting night after all that action in the past 24 hours; not a single bleep last night.  I switched over to single hook baits, from using bags with pellets in, or was it the change in weather?  There were also fewer fish crashing last night.  I will need to put some thought into what I learned last night and see where we go next.
This is my last weekend for a few weeks as have a couple of weeks off with the family.  I may slip an odd few hours in but that will be it for a bit.
Until next time
Richard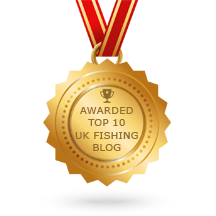 Please subscribe to my Video Diary
Consultant For

Sponsored By

Please follow my Facebook Pages