Location – Airfield Lake
Hours Fished – 67 hours
With the weather forecast to be 29+ degrees, I very nearly didn't come this week.  But the wife is going back to work and homeschooling is coming back my way again, so I thought I better make the most of it.  There was a good breeze forecast, which in the right swim would be lovely.
My swim choice was going to be completely based on the wind and shade, this narrowed it down somewhat.  I had 6 swims in mind and after a good look about (one was already occupied, but the rest were free) I finally settled on what I thought was my best option.  It felt pretty good as the wind was pushing down the lake towards me.  I got the Deeper out as I was looking for a particular area.
The far side of the bar was very smooth and was an ideal spot.
The other area was deeper and very smooth at the entrance to a small bay.
I had spotted carp in this area on and off over the years, but I'm not sure if anyone has fished it before.
I baited both areas with just over a kilo each and was fishing my ever faithful ronnie rig, with a 15mm Catalyst cork wafter and a 12mm pink pop up on.
The traps were set and it was just time to sit back and relax in the lovely cool breeze.
What a lovely sunset that was last night and it was also going to be a very warm night.  The night past without a single bleep.  I was up early watching the lake and there were a few carp showing not far off the spot, hopefully this is a good sign.
The weather is due to change a lot over tonight, which is why I arrived yesterday, but that's fishing for you – effort equals reward.  There's going to be a nice fresh breeze today, which will certainly help.
Around 13.00, it was time for my daily walkabout.  I like to clear my mind and see what else is going on, number of anglers, conditions, etc.  I don't tend to talk to everyone, its just nice to get out the swim and stretch my legs (also it rests the swim for a bit), by 14.30 the bait was back out again.
The rain and thunderstorms are not to far away,  it's time to get some shut eye before the storm arrives.  It never did!  There was a point when the wind picked up and was very gusty, we much have been right on the end.  I was fast off and dreaming away when the left rod absolutely belting off, the bivvy door was down so when I got out (at 17.25), it was a bit bright for my eyes for the first few minutes I was playing the fish.  It was nicely under control in the open water and it put in a good account of itself.  There was no real drama, which is nice and it was soon on the Nsr50.
18lb 10z Common
The bait was back on the spot and a much cooler day was forecast.  It was going to be quite pleasant on the bank.
Gutted
Just lost what felt like a nice fish on the right hand rod.  I was starting to think it was never going to go off.
I rebaited my swim just after 1430, had a good tidy up and would pack most of the stuff down this evening ready for the off first thing tomorrow morning.  Don't get me wrong, I'm very happy the wife is back to work, as this is best for the family all round and with homeschooling is only going until the summer holidays.  But this was my last 3 nighter for a while.  I may be able to adjust my arrivals days again, as things change and move on.  You should always try and be able to adapt with minimal fuss.
The last night passed by with lots of heavy rain storms and not a bleep.  With the change of conditions was a shock, but something I will note for the future and in hindsight I may try the shallower lake, they may well be where they head to in these conditions.  I'm very happy with the carp, as it has continuing my run of luck and keeps me positive that I'm doing it all right – effort equals reward and the big fish are not too far away.
Until next time
Stay safe
Richard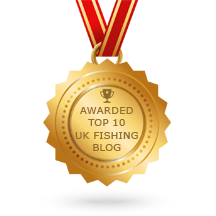 Please subscribe to my Video Diary
Consultant For

Sponsored By

Please follow my Facebook Pages