This was in the 90's on Weybread Bottle Pit with a wave lock brolly and a nash overwrap.  It also had a full-on double burner and grill, wooden bivvy table (not a modern invention!), the bedchair was one of the first comfortable adjustable Fox ones and the small screen in the middle is my TV.  Even back then I would pass the time away by watching stuff and reading books
KJB rod pod and Shimano bait runners, optonics and Fox Swingers, which had made so they would light upon a take (again, not a modern invention).
Winter fishing was fun.  Wave lock brolly, Nash canvas bivvy, which was an awesome bit of kit.  If you are wondering where the rods are, they are down the bottom as per the photo above and you had to tun for your rods – well walk.  If you fished any swims along the high bank opposite (unless it was the two with a walkway out into the lake), you bivvy up at the top and needed 20m extension leads for your sounder box.
Way back in the beginning – 1984 Weybread Pits, before I couldn't afford much, I would sleep on the floor in a sail bag and a sheet over, the plastic held down by whatever I could find I used.  Luckily no photographs of them.  I never used a brolly unless it rained and you had to put a bin bag over the end, to stop yourself getting wet.  You will note the non matching rods, which was the norm for the first few years. 
Getting a bit more modern, matching rods, buzzer, and reels camped out for a week on Barham D pit – somethings never change.  I even did week seasons; once I had a carp and I was Tench fishing!  I've come to the conclusion that I love being outside as much as possible. 
And my up to date set up Aqua M3 Compact, Fox flatline Bedcahire, and a 5 season sleeping bag, out in all weather over the Winter months.  I must say, I have noticed that there are less times where the lakes freeze up.  We have certainly moved on and for the better, I personally feel. 
Until Next Time
Richard
Stay safe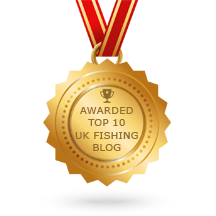 Please subscribe to my Video Diary
Consultant For

Sponsored By

Please follow my Facebook Pages