Please note that this session was done before the current Corona lockdown.
With the Airfield Lake opening at midnight and the opportunity to set up at 5pm, just for old time's sake, I thought it would be nice for a change.
By the time I had had a quick look about, it's still getting dark by 1830 and it was a pretty grey day, I just about got the spomb on the money and the rods clipped up for the midnight chuck.  The rest of the kit was all done in the dark, there was no rush.  I'd set up in an area where I hadn't fished before.  However, I was very confident that the carp passed by a few times each day.  There had to be a good chance of a take.  It does tend to be incredibly slow on here at the beginning of the season, the fish have spent since the end of last September feeding on naturals.  We then spend the next six months getting them back off.  This year we are very lucky and are able to fish until the end of October, not wishing time away, but I can't wait.
The night past with no action and no signs of carp.  This lake is not like Meadow Lake and is a hard nut to crack each new session.  There will be a few blanks ahead, a good deal of soul searching and deep thinking going on over the next month or so, to pinpoint the feeding areas they are preferring this year.  They always show on the far banks amongst the tree, but I'm convinced this is because they feel safe there and just show less in open water.  This makes the mindset of fishing here hard work, you have to be able to fish an area that's showing no signs of carp when you are watching carp showing way across the lake.
After seeing a few carp showing at the range, it was time to get the marker rod out.  I  firstly investigating my Lakebook page and roughly worked out where they were.  I soon located the feature I was looking for and then set about getting some bait on the spot before the rain arrived; this was done in the nick of time.  The other rod was also rebaited but still on its original spot, I'm pretty sure that it will produce a take over the next 24hrs.
The sun finally arrived, the late afternoon and early evening were gorgeous, there was even a stunning sunset.
The night past by peaceful (as normal) and I awoke to a lovely frost.
It's certainly looking like it will be a lovely day, with plenty of sunshine.  This will make a change after the dull and damp weather at the weekend.
I was a bit surprised that I had not caught, but then again its always a slow start.
With a few hours this morning, there is still a very good chance of a carp.
I stayed until 1230, but they just were not out there.
Until Next Time
Stay Safe
Richard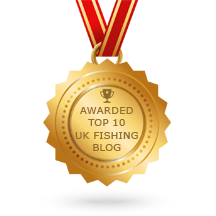 Please subscribe to my Video Diary
Consultant For


Please follow my Facebook Pages