Location – Meadow Lake
Hours Fished – 38hrs
I arrived down the lake at 1830 and it was completely dark, I always like to drive around the lake to see if anyone is about.  To my amazement, there were 5 other anglers already set up, this left me with not a lot of choices, so after 3 laps around the lake and a lot of thought.  I was also very happy that I always leave my waders in the car, I have probably not used them for over 4 years, but you never know when you will and tonight's the night!  I very nearly set up on the smaller lake, but I finally decided that if I had no choice but to use the waders, which to be honest are a bit of a pain, I should at least be in a swim which gives me access to the area I feel the carp are in.  After 2 barrow trips through the mud and a lot of effort, I was all set up – some 2 1/2 hours after arriving here.  I did feel very confident and happy with the location of my baits for the first of two nights fishing.
Overnight I had a few liners but heard no signs if Carp crashing about, it was going to be another of those Winter grey days,  but with the wind changing around to the Southwest and the pressure dropping slowly, I could be in with a chance. 
Just after noon,  I set about baiting up, fine-tuning my spots and recast for the rest of the day and night, with the hope I will get a Carp.  I was baiting up both areas with the new Spotted Fin Classic Corn boilies and fishing a 12mm CC & PPS.

The first take of the weekend happened just after 2230 on the second night and it absolutely screamed off.  I had to calmly and quickly get the waders on, then grab the rod – this felt like a lifetime.  We had a nice slow and not to spectacular fight, which was a help, the Carp was safely in the Nsr50 and soon back home after a quick photo shoot.

I rebaited the rod and had it back on the spot.  I was over the moon, it wasn't the biggest Carp.


16lb 12oz Mirror

But it made all the difference this time of the year and the bait was producing Carp.

The rest of the night had a few fish topping, I was forever hopefully and even after dawn I spotted a Carp showing not too far away.  After 2 hrs of hoping, it was pack up time, but I went home very happy as I've been quite lucky lately.
https://youtu.be/xUIIDL2F9HI

Until next time
Richard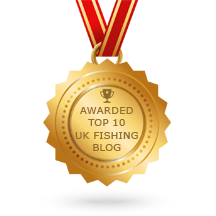 Please subscribe to my Video Diary
Consultant For
Sponsored By